Google Ads Enhanced Conversion Tracking + Google Tag Manager
About Enhanced Conversions
Enhanced conversions is a Google ads feature that can improve the accuracy of your conversion measurement and unlock more powerful bidding. It supplements your existing conversion tags by sending hashed first-party conversion data from your website to Google in a privacy-safe way.
How Does Enhanced Conversions works
When a customer places an order on your website, you may receive first-party customer data such as an email address, name, home address and/or phone number. This data is then captured in your Google conversion tracking tags, hashed, sent to Google in its hashed form and then used to enhance your conversion measurement.
Please Note: The settings below require our Datalayer for Google Tag Manager for Magento and some features also require our Enhanced Ecommerce or Google Analytics 4 extensions.
The quickest way to configure your Google Tag Manager Container is to use our pre-config json import file which simplify the process by importing and auto generate all the tags, events and variable in your GTM container. For additional information, see Google's Container export and import which provide more instructions on how to import a sample JSON to a new container.
Note: If you are using an existing Google Tag Manager account, we strongly recommend that you publish all changes and export a backup of your current container before proceeding.
Google Tag Manager Ads Enhanced Conversion Tracking Import JSON Download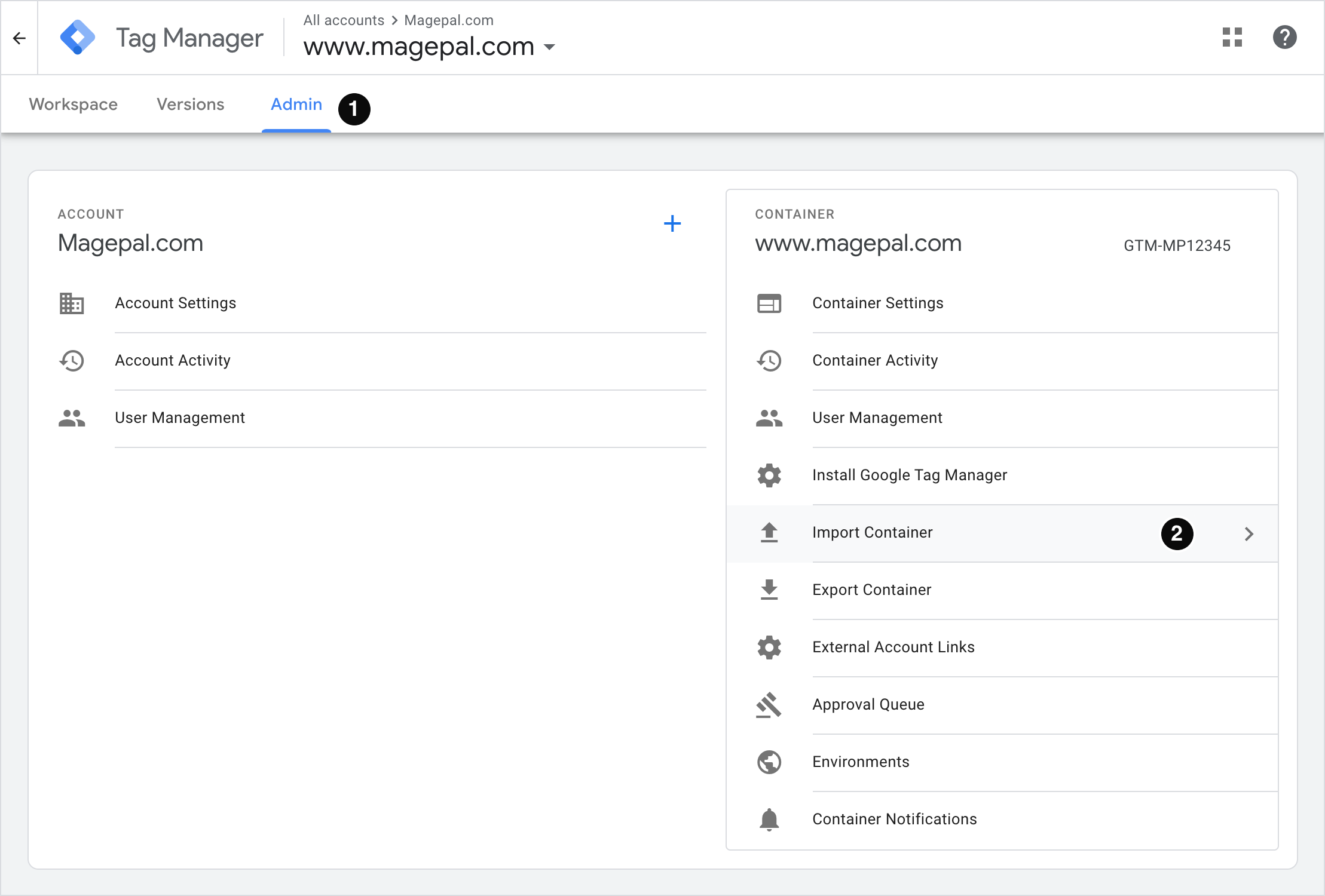 Download the MagePal Google Ads Enhanced Conversion JSON Import file and do the following:
Open Google Tag Manager Admin.

Navigate to Admin > Container > Import Container.

Click Choose container file and select the json file (GTM-MagePal_google-ads-enhanced_conversion.json).

Under Choose workspace, click Existing or New (Enter a title and description, then click Save).
Warning: Please remember to update your Conversion ID and Label. You will also need to Add a Conversion Linker tag
To edit the Conversion ID and Label, go to tags and search for "MagePal EE/GA4 -Google Ads Conversion" and enter the correct Conversion ID and Label
JSON Import File