Email Promotional Items for Magento 2
Turn Your Customers Into Repeat Buyers by Marketing Other Items in Their Order Confirmation Emails
Unlock the power of email marketing without breaking the bank! Boost sales and increase customer engagement with our extension.
January 21, 2022
Excellent Magento 2 extensions and 5-star quality support. If you need to set up Google Tag Manager, Google Analytics (Universal Analytics and the new GA4 - Google Analytics 4), an SMTP email module, customize the data layer variables, etc, definitely buy the extensions from MagePal. The code works well and support is outstanding. Quick knowledgeable responses to questions, from a lead developer. Absolutely great.
February 5, 2021
extensions works great and excellent support.
October 17, 2020
Great support and extensions so far!
March 9, 2021
Incredible support regardless of time zone you are working in.
September 14, 2022
Great service, they explain what we need.
August 13, 2020
We were very happy with the extension we purchased and I was *VERY* pleasantly surprised by the fast support we received in getting a couple of things working. They were super responsive!
January 28, 2021
Great support, I can recommend it!
October 10, 2021
Renon is a total professional. We always know we're in good hands while solving our problems. Always responds to chats in a timely manner. I highly recommend MagePal. Always a pleasure to work with them
April 1, 2021
Solid plugins, friendly support.
April 17, 2022
nice customer service and very helpful, the module of the google tag manager for magento 2 works well, its a one-time-pay extension, not like any others that are starting to ask for subscriptions
August 16, 2020
I'm giving it 5 stars because I not only get an extension that works, but has strong and speedy customer service and support. This is important as I'm running different things and can't expect the extension to deprecate or malfunction. I've used more 3 extensions, namely GTM, data layer and smtp extensions and I have no complains.
March 9, 2021
I would total recommend their extensions
August 20, 2020
Very good website chat support with indept knowledge, not just a sales funnel.
February 20, 2021
Contacted Renon to get Information on his code.The response was quick and got explanation for what i was looking for.Thank you for your work
September 6, 2021
Excellent products and very good support. I recommend this company. I am using the Google Tag Manager and Enhanced E-Commerce extensions
Boost Your Sales by Promoting More Products to Your Customers.
Maintaining a relationship with your customers shouldn't end at the checkout. Keep in touch with your customers even after their purchase with our email promotion extension. By offering discount vouchers, and special offers, and recommending items based on their current purchase, you can increase customer retention and drive more sales.
The confirmation email is one of the most important emails your customers receive and it often has a close to 100% opening rate. It notifies the customer that their order has been received and that they will receive the product or service shortly. Instead of letting this opportunity pass, leverage this opportunity to turn it into a sales opportunity by adding upsell and cross-sell products to your existing customers.
Existing customers are more likely to make a purchase than new ones. With our extension, you can provide them with a personalized shopping experience, increase customer retention and boost your sales. Don't miss out on this opportunity to grow your business. Purchase now and start seeing results..
Buy with confidence
Install our extensions with confidence knowing that they will just work! But if you run into an issue... no problem, we normally solved all issues in 15 minutes or less.
Did you know?
Our extensions have been downloaded over 1.6 million times, with thousands of happy customers worldwide.
We are Core Magento 2 contributors.
We are amongst the top 10 Magento contributor on StackOverflow.
We provide bug fixes to almost all extension companies
We help develop some of the top multi-million to billion-dollar brands using Magento
and best of all we just love creating great Magento products.
Each line of our code is carefully written and tested so that you will spend less time on issues and more time doing what you do best!
Setup in 30 minutes or less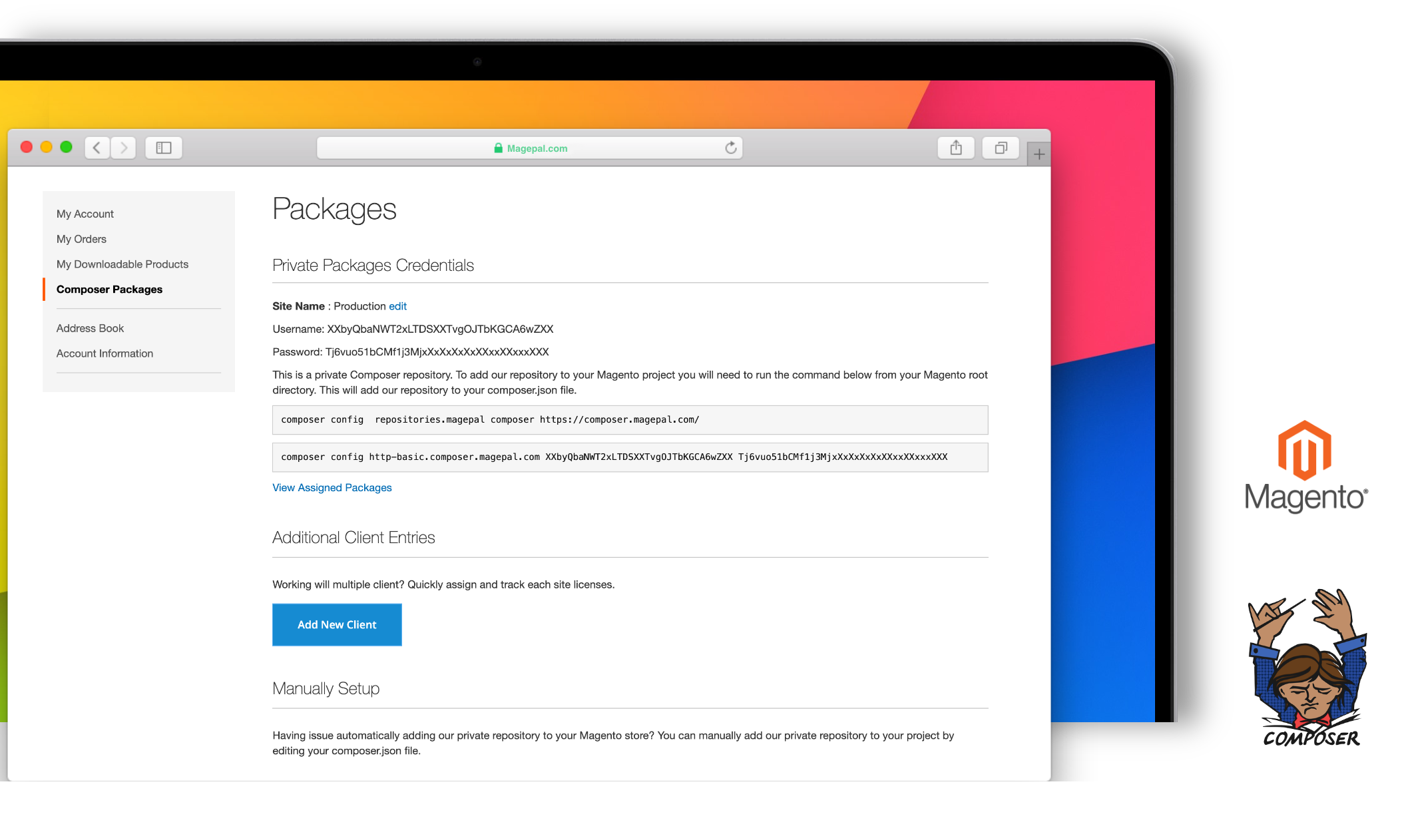 Whether you are a small Magento store or a billion-dollar enterprise customer, integrate upsell and other promotional items within your order, invoice, and/or credit memo confirmation emails can dramatically decrease your customer acquisition cost while increasing your sales as customers purchase more of your products.
Start Improving your Sales! Say Hello To Email Promotional Items.
Selling a lot of complimentary items? With our new Magento extension, you can quickly add cross-sell, upsell, related, recently view products, social media links, and other elements to your order confirmation, credit memo, and invoice emails. These emails not only have the highest opening rates without spam but also give you the opportunity to provide other products and services recommendations to your most valuable customers based on their current purchase. This not only improves your average customer acquisition cost over time but also decreases your cost per acquisition.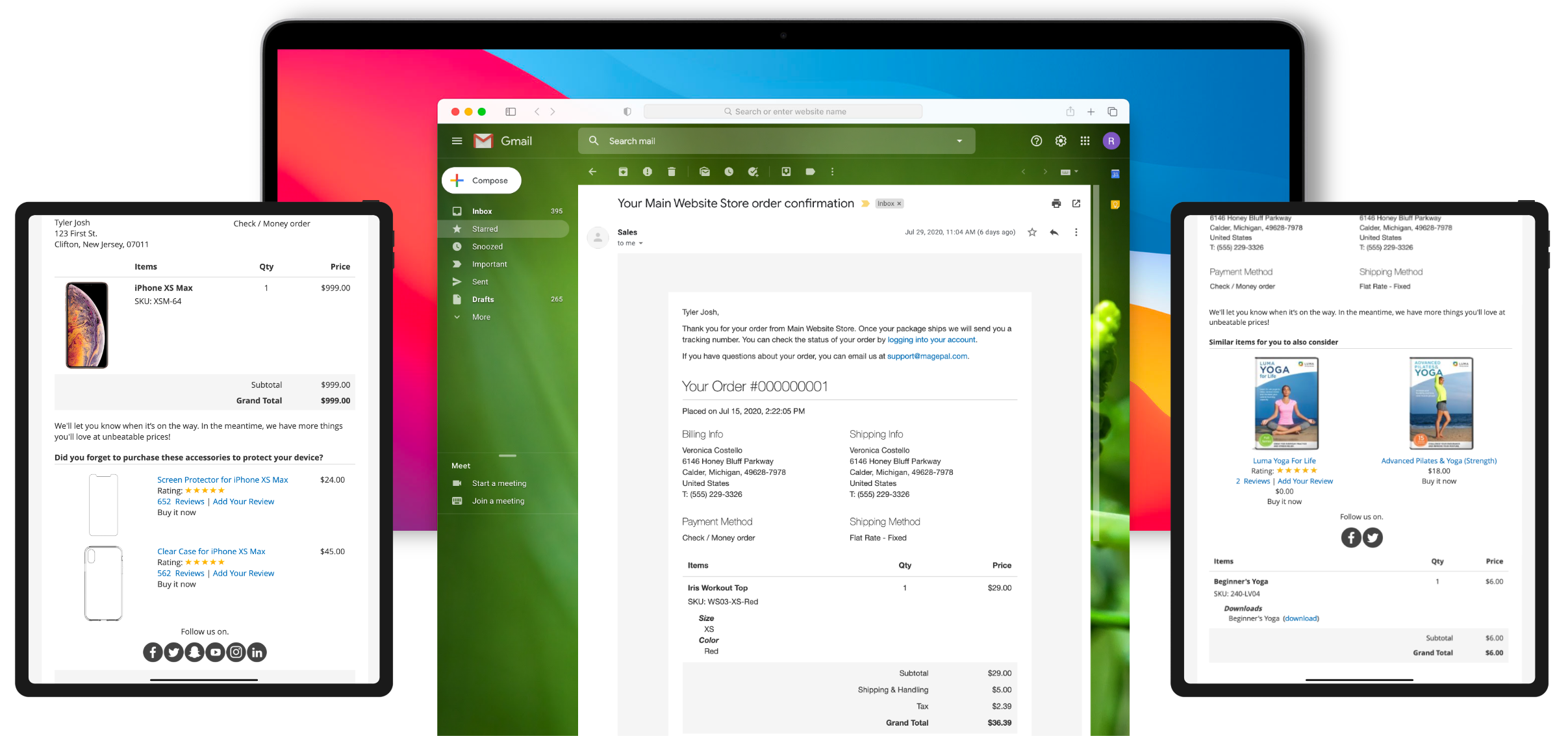 Upsell Email Marketing Made Easy
Customers are far more likely to act if you send promotions to them after they already made a purchase. Therefore adding upselling and cross-selling items with-in your confirmation email is the best way to get more repeated sales from your current customers.
Offer discounts if purchase by a specific date.
Display other products on the order confirmation, credit memo, and invoice emails.
Decrease your cost per acquisition by offering more complementary products to your most valuable customers.
Add links to your various social media profiles.
Ability to convert guest users to customers, directly from the order confirmation page.
Responsive design.
Easy drag and drop with zero codings needed. Customize content and sort order to control each section with individual visibility options.
Display more relative product to your most valuable customers
Easy to Configure & Setup
Select from a list of predefined elements by drag and drop the individual elements to design your ideal email template layout. Quickly enable Google Analytics to Track performance. You can choose several different elements to customize your email template.
Discount Coupon
Up-Sell Items
Social Media Links
Cross-Sell Items
Related Items
Recently View Items
Custom Paragraph Element
Custom Header Element
Frequently Asked Questions.
Do I need to edit my Magento order email template?
No, our extension will insert all the HTML code for you.
Can I choose which element to display in my order, invoice, and credit memo emails?
Yes, you can drag and drop the different elements you want to display in your emails.
How much time will it take to implement this extension?
Setting up and integrating our extension should take around 10 - 30 minutes.
How to Use Confirmation Emails to Make More Money?
Monetizing your order or invoice conformational email is as simple as installing our extension.
We found other products you might like!