Admin Form Fields Manager for Magento 2
Optimized for Magento 2
Build from the ground up to take advantage of Magento's latest technology and features
February 20, 2021
Contacted Renon to get Information on his code.The response was quick and got explanation for what i was looking for.Thank you for your work
August 20, 2020
Installed GTM on a commercial site today, had a few hickups but the support was great. Can reccommend.
October 10, 2021
Renon is a total professional. We always know we're in good hands while solving our problems. Always responds to chats in a timely manner. I highly recommend MagePal. Always a pleasure to work with them
April 17, 2021
good support, respond very quickly.
September 6, 2020
Great products and service. Thanks
March 9, 2021
Great extension, and support is even more amazing.
August 27, 2020
Providing instant solution regarding our query. It is very helpful.
May 9, 2022
Great products and reliable and fast Customerservice&Support, thank you!
September 22, 2020
Amazing customer support and superb extension quality !
February 5, 2021
extensions works great and excellent support.
September 10, 2020
I've worked with MagePal for a few years they are always very responsive and very knowledgable. There is nothing I ask for they can't do. From basic fixes to major customization they do a great job.
March 9, 2021
Incredible support regardless of time zone you are working in.
March 9, 2021
I would total recommend their extensions
May 14, 2022
They are professional knowledgeable, and fast. If you are looking for support team, they are the best.
April 4, 2021
I can recommend GTM/Enhanced Ecommerce Magento solutions provided by MagePal. They're providing customer with all the basic analytics/dataLayer functionalities by default, plus are not that difficult to extend and use for custom things. What's also worth to emphasise - quick and solid support from their creator
Customer and Address Form Fields Manager for Magento
Quickly and easily remove unwanted form fields from admin order creation and customer account, added by default Magento or other third-party extensions
Features
Remove unneeded form fields from:

Admin order creation
Customer admin

No code or template modification

Switch on/off form fields via Magento backend.
Customer Attributes
Name Prefix
Middle Name/Initial
Name Suffix
Date of Birth
Tax/VAT Number
Gender
Address Attributes
Name Prefix
Middle Name/Initial
Name Suffix
Company
Fax
VAT Number
Before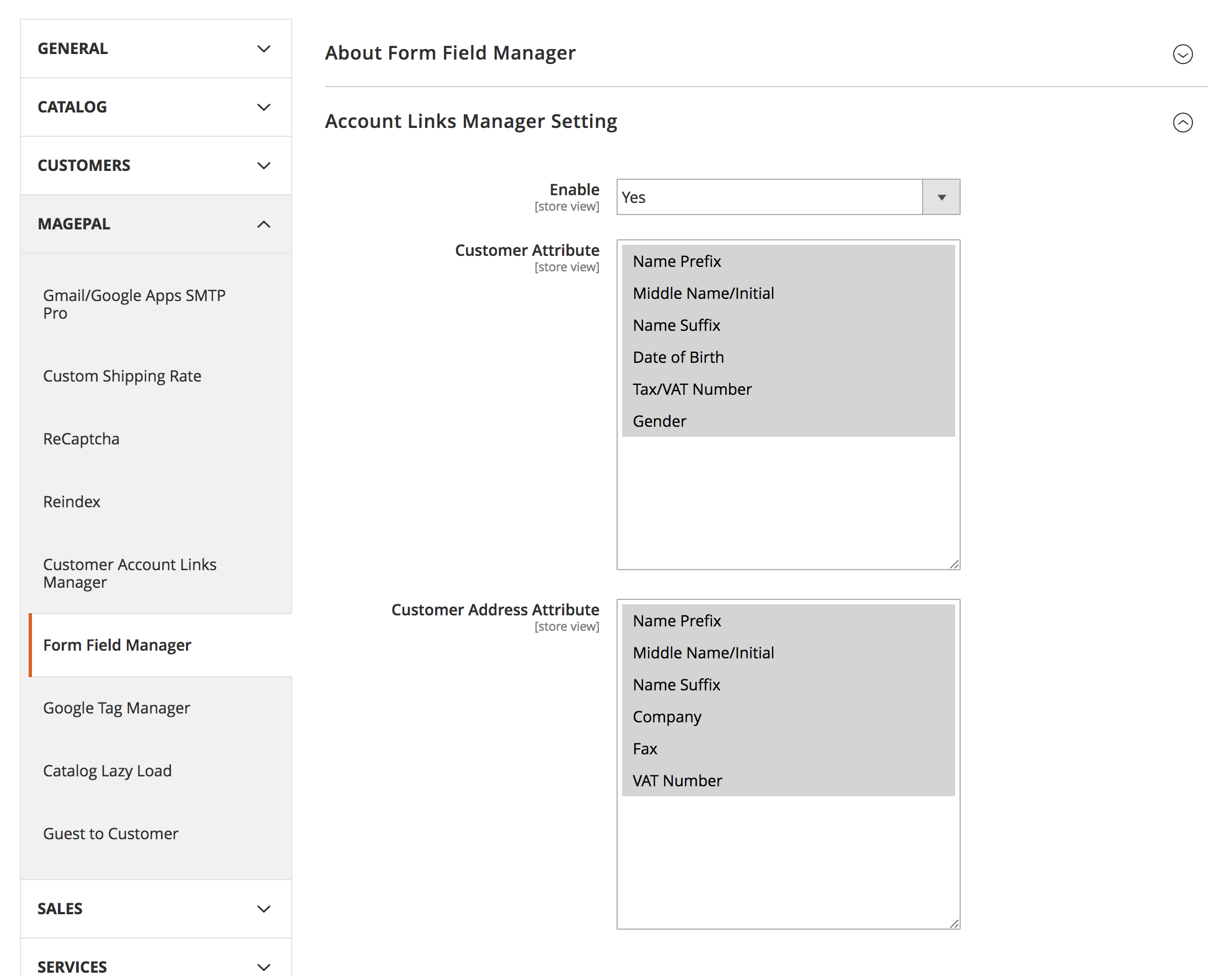 After (Admin order creation)
We found other products you might like!