Enhanced Success Page for Magento 2
Transform your order success page. Keep customers engaged and purchasing more.
Quickly offer customers discounts on their next purchases if the do it within the next x minutes. Repeat customers are vital to the success of your store.
June 6, 2021
When we moved over to Magento 2, we needed help with both Google Tag Manager and getting better data into Google Analytics. MagePal offered two solutions that worked really well together... but even more important, their customer service was patient and helpful to get it set up and working properly.
August 27, 2020
Providing instant solution regarding our query. It is very helpful.
April 17, 2022
nice customer service and very helpful, the module of the google tag manager for magento 2 works well, its a one-time-pay extension, not like any others that are starting to ask for subscriptions
May 14, 2022
They are professional knowledgeable, and fast. If you are looking for support team, they are the best.
October 15, 2022
Great support! Solved my issue regarding buying wrong extention without any hassles and in a matter of hours
August 17, 2020
Used their extensions on Magento and they work out of the box. Moreover support is always on point. Spoke with Renon many times and he excelled in finding solutions for us. Great company and great work so far.
December 10, 2020
They have an amazing list of free modules "must have", and with strong code and well maintained. Absolutely one of the magento 2 software house more reliable. Customer service is quick in response and very professional. Thank you for your work!
December 28, 2020
I contacted them to ask if it was possible to create a plugin, and they went ABOVE and BEYOND and managed to get me something that worked for my needs. The support has been absolutely amazing, and I don't know how to thank them enough!
September 6, 2021
Excellent products and very good support. I recommend this company. I am using the Google Tag Manager and Enhanced E-Commerce extensions
October 10, 2021
Renon is a total professional. We always know we're in good hands while solving our problems. Always responds to chats in a timely manner. I highly recommend MagePal. Always a pleasure to work with them
January 21, 2022
Excellent Magento 2 extensions and 5-star quality support. If you need to set up Google Tag Manager, Google Analytics (Universal Analytics and the new GA4 - Google Analytics 4), an SMTP email module, customize the data layer variables, etc, definitely buy the extensions from MagePal. The code works well and support is outstanding. Quick knowledgeable responses to questions, from a lead developer. Absolutely great.
September 10, 2020
I've worked with MagePal for a few years they are always very responsive and very knowledgable. There is nothing I ask for they can't do. From basic fixes to major customization they do a great job.
December 28, 2020
These guys and gals just write great code. There is no other way to explain it. They do good work, are responsive, and professional. My only complaint is they don't have more extensions available.
February 10, 2021
Fully satisfied with your products :)
March 21, 2021
We are a specialized european E-Commerce Agency for scalable, high performance e-commerce solutions for B2B and B2C merchants and highly recommend this Plugin: Magepal is the best solution for our customers to transfer all needed data into Google Analytics. The support is outstanding, even when a "out of the box" method is used in Magento. The assistance in finding a solution together with our Dev. Team was incredibly good!
Convert Existing Customers into Repeat Customers To Increase Sales.
Transform your Magento 2 store's order confirmation page with our Enhanced Success Page extension. Easily design beautiful and customizable thank-you pages with modular drag-and-drop elements. Boost sales by adding upsells, cross-sells, and related products to complement your customer's purchase. With this extension, you have full control over the layout and content of your order confirmation page.
Furthermore, this Magento extension provides you with additional elements such as ordered item information, social media links, and the ability to offer a special coupon discount toward a new purchase within minutes of the transaction. With a new modern responsive design and a variety of different layout options, your order confirmation page doesn't have to be just an exit page for your most valuable customers anymore.
Staying connected with your customers is vital to your business's success, and providing your customers with an easy shopping experience makes it easier for them to stay connected with you. The Enhanced Success Page extension makes it easy for your customers to sign up for newsletters or follow you on social media after making a purchase. The one-click newsletter subscribes signup and links to your social media profiles make it easy for your customers to connect with you after making a purchase. Keep your customers engaged even after their purchase
Buy with confidence
Install our extensions with confidence knowing that they will just work! But if you run into an issue... no problem, we normally solved all issues in 15 minutes or less.
Did you know?
Our extensions have been downloaded over 1.6 million times, with thousands of happy customers worldwide.
We are Core Magento 2 contributors.
We are amongst the top 10 Magento contributor on StackOverflow.
We provide bug fixes to almost all extension companies
We help develop some of the top multi-million to billion-dollar brands using Magento
and best of all we just love creating great Magento products.
Each line of our code is carefully written and tested so that you will spend less time on issues and more time doing what you do best!
Setup in 30 minutes or less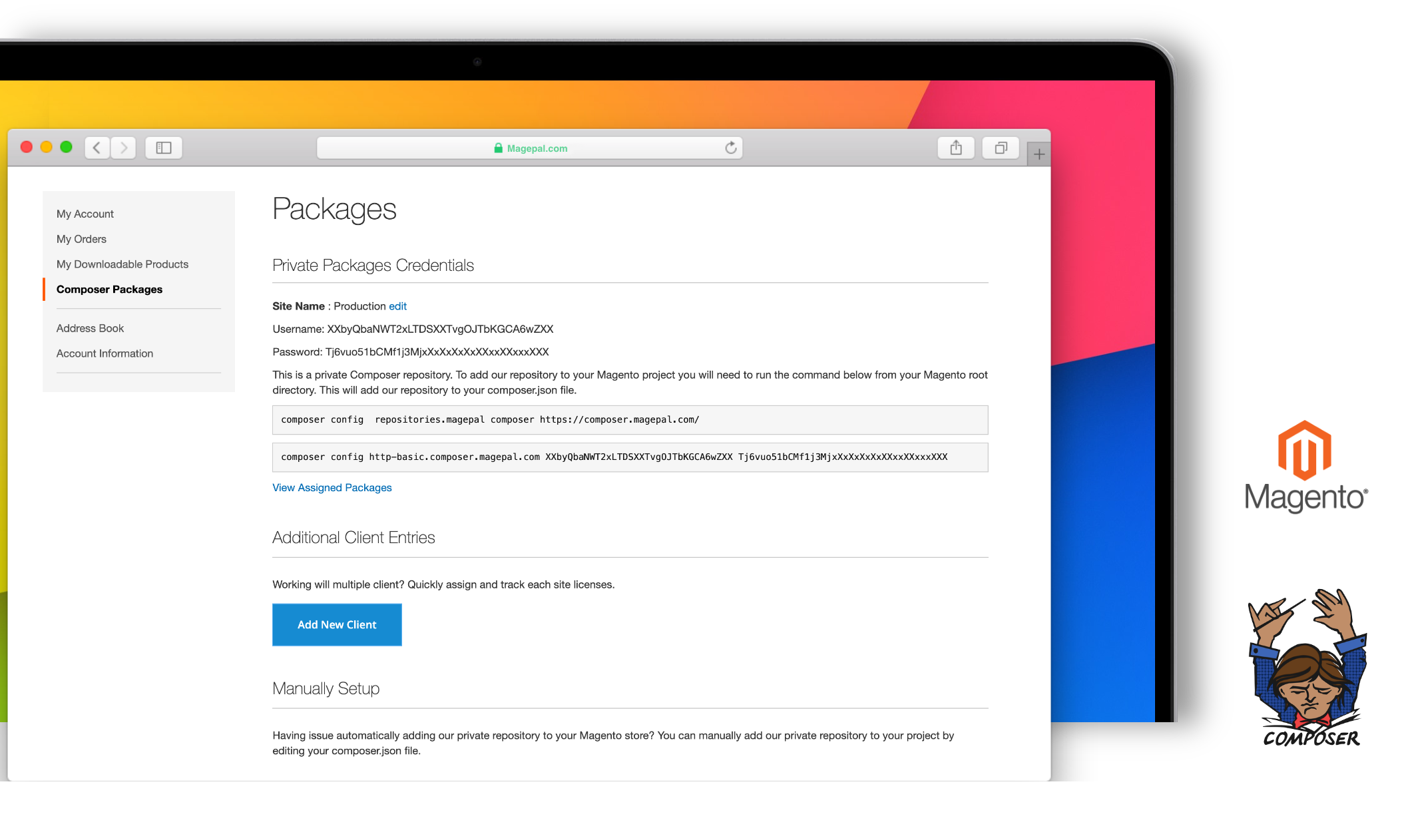 Adding recommended products on the product detail pages may result in a higher conversion rate for larger retailers. But for smaller retailers, customers are not yet committed to spending more and oftentimes end up abandoning the entire shipping cart. So why not just wait until after they place the first order and they recommend your other products and services?
Generate sales by upgrade your order confirmation page.
With our order confirmation page extension, you can quickly add cross-sell, upsell, related, recently view products, social media links, and other elements to your order success page. Quickly add other products and service recommendations to your most valuable customers based on their current purchases. This will not only improves your average customer acquisition cost over time but also decreases your cost per acquisition.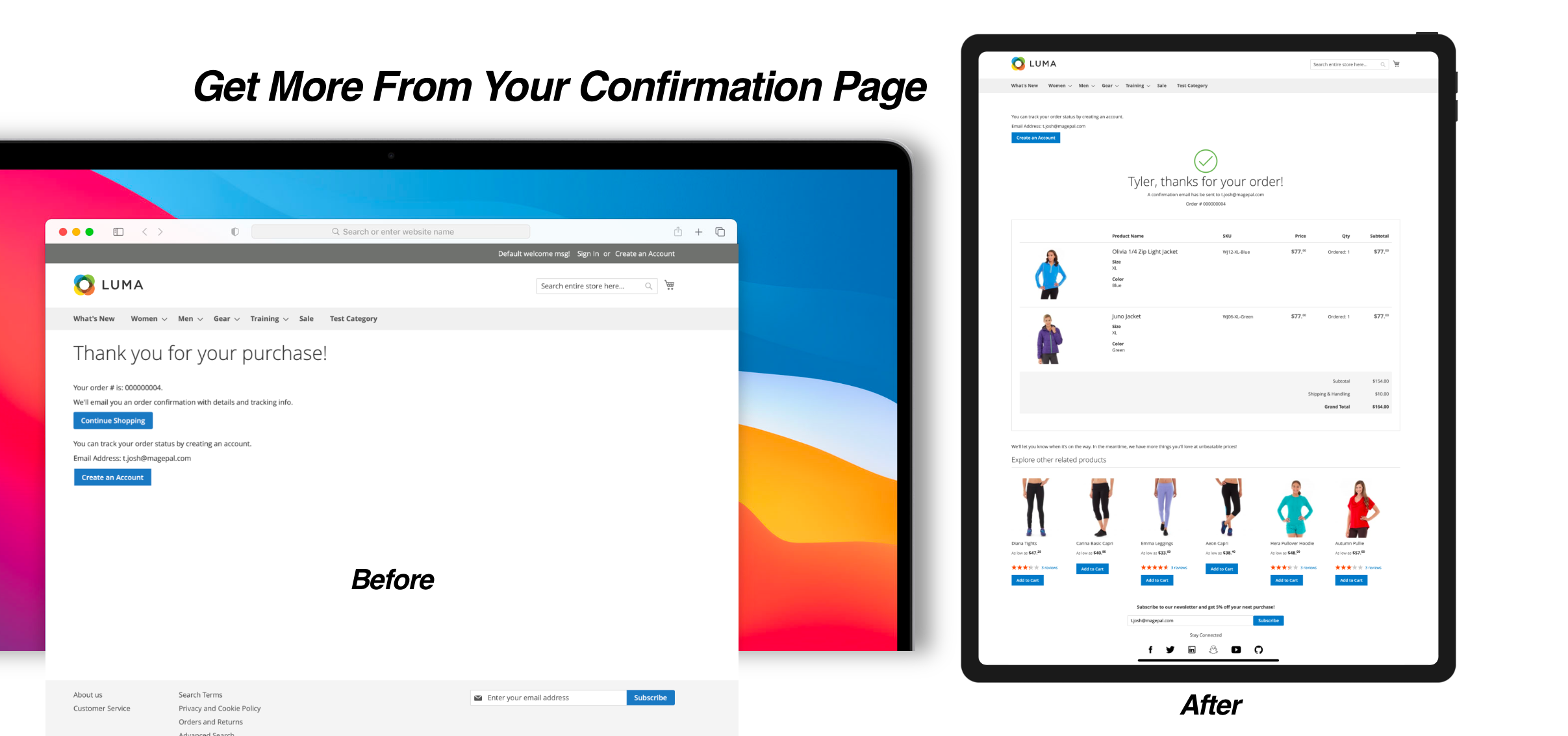 Beautiful Order Confirmation Page Made Easy
Customers are far more likely to purchase additional items from your store after they already purchased goods or services from you in the past. Therefore adding upselling and cross-selling items within your order confirmation page is the best way to get more repeated sales from your current customers.
Display order and item details to the customer.
Subscribe to the Newsletter with a pre-populated customer order email address, if the customer has not already subscribed.
Decrease your cost per acquisition by offering an instant discount if the customer makes another purchase in 'x' minutes.
Add links to your various social media profiles.
Ability to convert guest users to customers, directly from the order confirmation page.
Responsive design.
Easy drag and drop with zero codings needed. Customize content and sort order to control each section with individual visibility options.
Display more relative products to your most valuable customers
Easy to Configure & Setup
Select from a list of predefined elements by dragging and dropping the individual elements to design your ideal page layout. Quickly enable Google Analytics to Track performance. You can choose several different elements to customize your page.
Discount Coupon
Up-Sell Items
Social Media Links
Cross-Sell Items
Related Items
Recently View Items
Custom Paragraph Element
Custom Header Element
Frequently Asked Questions.
Do I need to edit my Magento order confirmation page template?
No, our extension will insert all the HTML code for you.
Can I choose which element to display on my order success page?
Yes, you can drag and drop the different elements you want to display on your confirmation page.
How much time will it take to implement this extension?
Setting up and integrating our extension should take around 10 - 30 minutes.
How can I use my order confirmation page to increase sales?
Based on industry statistics, the probability of selling to a new prospective customer is 5%-20% while the probability of selling to an existing customer is 60%-70%.
We found other products you might like!