Custom Maintenance Page for Magento 2
Upgrade Your Magento 2 Deployment with Stylish Custom Maintenance Page
Create professional looking, brand-matching experience for customers during deployment.
January 18, 2021
Quick and excellent service.
September 14, 2022
Great service, they explain what we need.
October 20, 2020
Renon was super patient and supportive throughout the whole experience, MagePal always provide the best extensions you could need as an ecommerce, definitely recommend!!!
May 10, 2022
MagePal were not able to help me today with my specific requirement. But the time and consideration I was shown by Renon was above and beyond the call of duty considering they did not have an out of the box solution, the very best effort was made to accomodate me. I will surely be back in the future, thank you.
March 9, 2021
Top notch support team. Very knowledgeable
March 21, 2021
We are a specialized european E-Commerce Agency for scalable, high performance e-commerce solutions for B2B and B2C merchants and highly recommend this Plugin: Magepal is the best solution for our customers to transfer all needed data into Google Analytics. The support is outstanding, even when a "out of the box" method is used in Magento. The assistance in finding a solution together with our Dev. Team was incredibly good!
August 27, 2020
Providing instant solution regarding our query. It is very helpful.
May 10, 2021
Great experience! They reply fast and are very helpful!
December 24, 2021
I have a very positive experience with MagePal. They are very nice and ready to help
March 15, 2021
Top Magento 2 extensions at a affordable price
April 17, 2022
nice customer service and very helpful, the module of the google tag manager for magento 2 works well, its a one-time-pay extension, not like any others that are starting to ask for subscriptions
May 31, 2021
We use MagePal's products for Magento 2, and are happy with their reliability as well as with the company' responsiveness too. I emailed their support with a question, and got a reply within an hour. Five Stars!
January 18, 2023
We have used their magento modules for several years now and they have been great for us and any service or support that we have needed has been fast and professional!
October 15, 2022
Great support! Solved my issue regarding buying wrong extention without any hassles and in a matter of hours
October 17, 2020
Great support and extensions so far!
Tired of your customers seeing a white page with an error message during your Magento deployment?
Introducing the Custom Maintenance Page - the ultimate solution for maintaining your online store during deployment. By default, during your Magento 2 deployment, your site will be temporarily unavailable to all your customers. Instead of displaying your site's regular content, during deployment, Magento will return a blank white maintenance page with a non-user-friendly error message to greet your most precious customers.
With our Custom Maintenance Page for Magento 2, you can say goodbye to the bland and unprofessional default maintenance page. Our solution allows you to create a custom maintenance page that matches your brand and provides a professional and seamless experience for your customers. You can easily customize the look and feel of your maintenance page with a variety of templates and design options to choose from.
Additionally, our Custom Maintenance Page for Magento 2 allows you to add important information such as estimated downtime, progress updates, and contact information to keep your customers informed and engaged. You can also add social media links, email subscription forms, and online chat to keep your customers connected with your brand even during the maintenance period.
Our solution is easy to install and set up, and will automatically go live during the next deployment once enabled. This way, your customers will never see the default maintenance page again. With our Custom Maintenance Page for Adobe Commerce 2, you can ensure that your customers have a positive experience even during maintenance periods and keep your brand image intact. Upgrade your Magento 2 deployment process with our Custom Maintenance Page and see the difference it makes!
Buy with confidence
Install our extensions with confidence knowing that they will just work! But if you run into an issue... no problem, we normally solved all issues in 15 minutes or less.
Did you know?
Our extensions have been downloaded over 3.4 million times, with thousands of happy customers worldwide.
We are Core Magento 2 contributors.
We are amongst the top 10 Magento contributor on StackOverflow.
We provide bug fixes to almost all extension companies
We help develop some of the top multi-million to billion-dollar brands using Magento
and best of all we just love creating great Magento products.
Each line of our code is carefully written and tested so that you will spend less time on issues and more time doing what you do best!
Setup in 30 minutes or less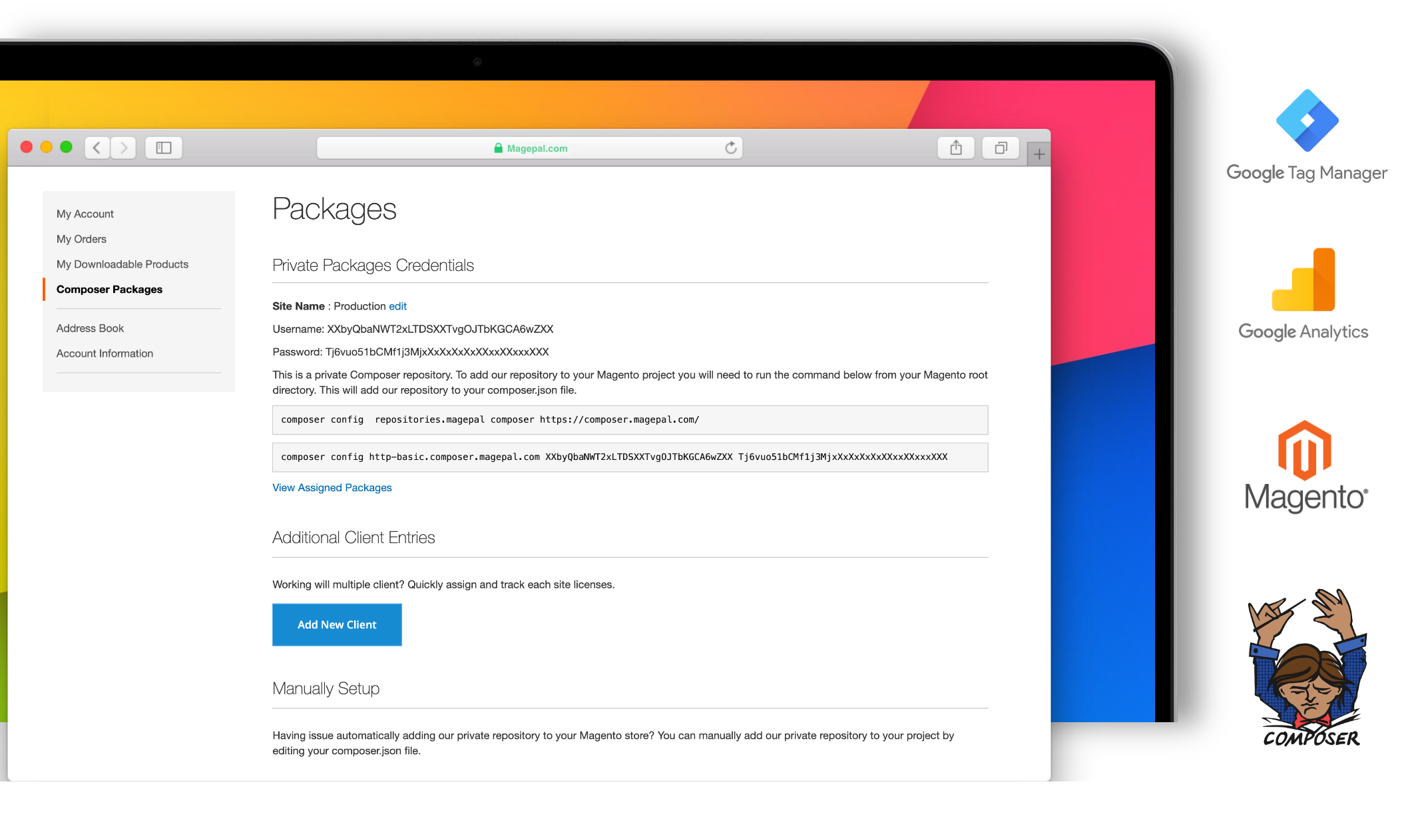 Adding third-party JavaScript code snippets to your Magento store can be a very time-consuming and difficult task, especially if you don't have the necessary data in your Google Tag Manager data layer. Our Datalayer extension provides easy-to-follow instructions to integrate all major third-party tracking codes.
Manage all your Integration without editing Magento code.
Creating customize maintenance page using core Magento functionality is very time-consuming and requires a lot of design and development hours. With our prebuilt extension, all that is needed is a quick installation which takes as little as 5 minutes.
Integrate JavaScript Chat Widgets
The first impression does count, so never miss an important customer again question again. Whether it is a question about a purchase, return policies, product returns or an extremely satisfied customer providing quality customer care when needed can mean the world to your customer. Thus, they won't be disappointed and will be more likely to return to your store. 
Track Active Customer
Track in real-time the number of customers that are currently on your site during deployment by adding Google Analytics to track. This will gives you precise information on how many active users are on your site and the top content they are viewing.
Newsletter Subscription
Getting customers to come back to your site by offering them the ability to subscribe to your newsletter while you finish deploying is as easy as installing our extension.
Links to social networks
Adding Social network links so that you can browse your various social media pages while they wait for your site to finish deploying. This will your customer to get more info about your store affairs and increase their chances of coming back.
Add Background Image
Quick add a background image featuring a collection of all your best products and services. Whether you want to make the background your favorite Sales Banners promoting your next big sales event
Offer Discount If Customer Subscribes to Newsletter
With the help of our Newsletter subscription extension (separate purchase required), you can off discount coupons for customers who signup for your store newsletter.
We found other products you might like!