Custom Maintenance Page for Magento 2
Optimized for Magento 2
Build from the ground up to take advantage of Magento's latest technology and features
February 8, 2021
Great experience with this company. They reply fast and are very helpful. They also listen to feedback in terms of how their products can be improved.
March 18, 2021
Fantastic work and an excellent plugin. These guys are the best!
October 20, 2020
Renon was super patient and supportive throughout the whole experience, MagePal always provide the best extensions you could need as an ecommerce, definitely recommend!!!
January 24, 2021
MagePal SMTP is a must have extension for your store. We connect our outlook account. Works great!
March 15, 2021
Top Magento 2 extensions at a affordable price
August 12, 2020
Very knowledge and they always respond to our inquiries immediately. One of the best developers we have dealt with. Highly recommend working with them.
April 17, 2021
good support, respond very quickly.
January 14, 2021
Renon was of great help. I appreciate his patience and explanation of what the issue was with my site. I'm excited to use the Custom Shipping Rates extension.
February 10, 2021
Fully satisfied with your products :)
March 9, 2021
Top notch support team. Very knowledgeable
August 20, 2020
Installed GTM on a commercial site today, had a few hickups but the support was great. Can reccommend.
September 21, 2020
I purchased several extensions from their website and and got some from their git account, helpful stuff. The offer a niche extensions that I couldn't' find easily somewhere else. The chat help is responsive and get my questions answered.
January 28, 2021
Great support, I can recommend it!
August 13, 2020
We were very happy with the extension we purchased and I was *VERY* pleasantly surprised by the fast support we received in getting a couple of things working. They were super responsive!
August 20, 2020
Very good website chat support with indept knowledge, not just a sales funnel.
Tired of your customers seeing a white page with an error message during your Magento deployment?
By default, during your Magento 2 deployment, your site will be temporarily unavailable to all your customers. Instead, of displaying your site's regular content, during deployment, Magento will return a blank white maintenance page with a none userfriendly error message to greet your most precious customers which you invest a lot in acquiring.
Buy with confidence
Install our extensions with confidence knowing that they will just work! But if you run into an issue... no problem, we normally solved all issues in 15 minutes or less.
Did you know?
Our extensions have been downloaded over 1.6 million times, with thousands of happy customers worldwide.
We are Core Magento 2 contributors.
We are amongst the top 10 Magento contributor on StackOverflow.
We provide bug fixes to almost all extension companies
We help develop some of the top multi-million to billion-dollar brands using Magento
and best of all we just love creating great Magento products.
Each line of our code is carefully written and tested so that you will spend less time on issues and more time doing what you do best!
Setup in 30 minutes or less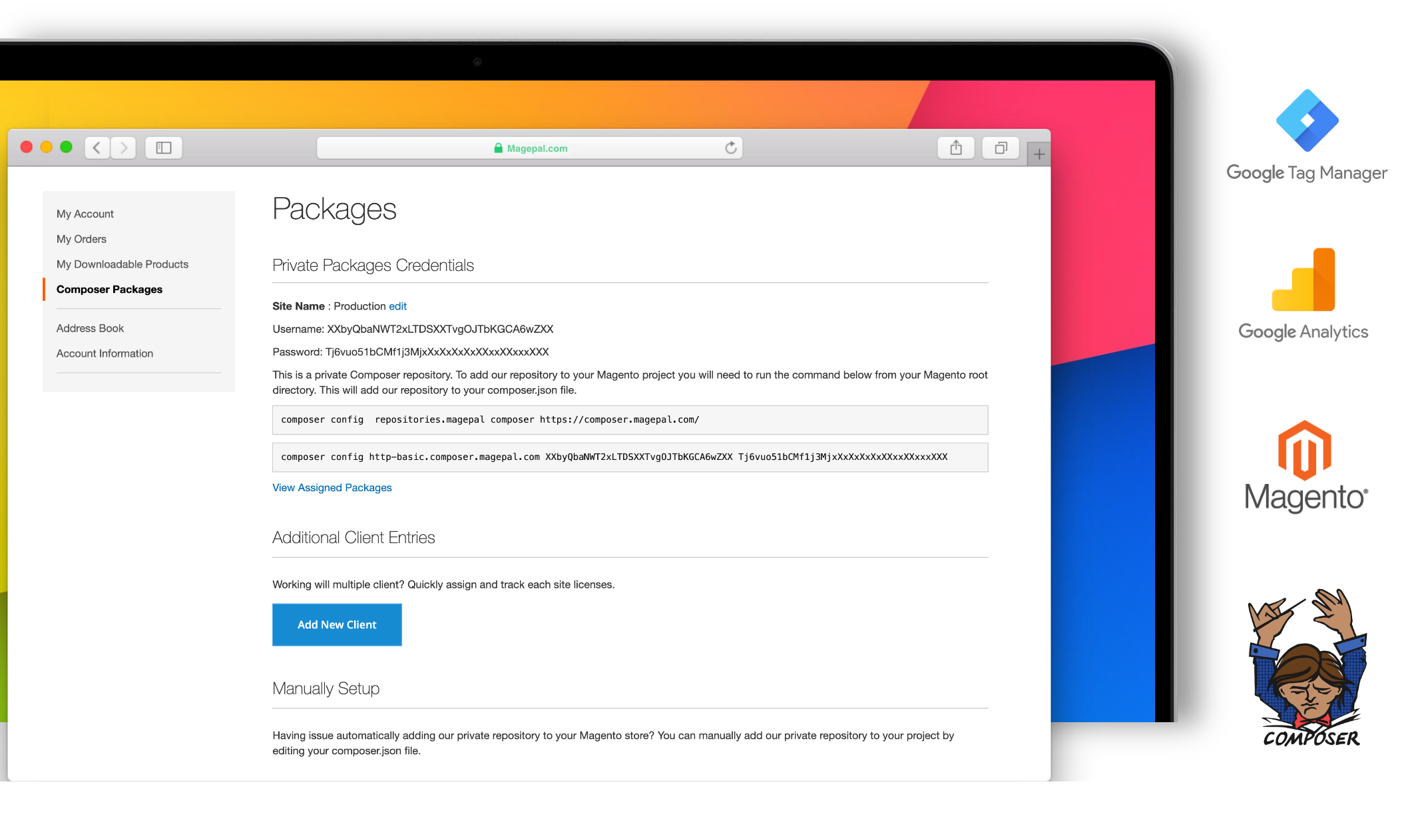 Adding third-party JavaScript code snippets to your Magento store can be a very time-consuming and difficult task, especially if you don't have the necessary data in your Google Tag Manager data layer. Our Datalayer extension provides easy-to-follow instruction to integrate all major third-party tracking codes.
Manage all your Integration without editing Magento code.
Creating customize maintenance page using core Magento functionality is very time-consuming and requires a lot of design and development hours. With our prebuilt extension, all that is needed is a quick installation which takes as little as 5 minutes.
Integrate JavaScript Chat Widgets
The first impression does count, so never miss an important customer again question again. Whether it is a question about a purchase, return policies, product returns or an extremely satisfied customer provide quality customer care when needed can mean the world to your customer. Thus, they won't be disappointed and will be more likely to return to your store. 
Track Active Customer
Track in real-time the amount of customers that are currently on your site during deployment by adding Google Analytics to track. This will gives you precise information on how many active users are on your site and the top content they are viewing.
Newsletter Subscription
Get customers to come back to your site by offering them the ability to subscribe to your newsletter while you finish deployed is as easy as installing our extension.
Links to social networks
Adding Social network links so that you can browse your various social media pages while they wait for your site to finish deployed. This will your customer to get more info about your store affairs and increase their chances of coming back.
Add Background Image
Quick add a background image featuring a collection of all your best products and services. Whether you want to make the background your favorite Sales Banners promoting your next big sales event
Offer Discount If Customer Subscribe to Newsletter
With the help of our Newsletter subscription extension (separate purchase required), you can off discount coupons for customers who signup for your store newsletter.
We found other products you might like!