Admin Form Fields Manager for Magento 2
Optimized for Magento 2
Build from the ground up to take advantage of Magento's latest technology and features
May 31, 2021
We use MagePal's products for Magento 2, and are happy with their reliability as well as with the company' responsiveness too. I emailed their support with a question, and got a reply within an hour. Five Stars!
November 4, 2020
very good
August 12, 2020
Very knowledge and they always respond to our inquiries immediately. One of the best developers we have dealt with. Highly recommend working with them.
March 9, 2021
Incredible support regardless of time zone you are working in.
October 22, 2020
Quick and thorough answers
January 18, 2021
Quick and excellent service.
August 24, 2020
We had a question about the Google Tag Module, and thought we had a paid version. But we were mistaken and were using the free version, still they gave us some advice to help debugging the issue. Good service.
May 14, 2022
They are professional knowledgeable, and fast. If you are looking for support team, they are the best.
December 28, 2020
I contacted them to ask if it was possible to create a plugin, and they went ABOVE and BEYOND and managed to get me something that worked for my needs. The support has been absolutely amazing, and I don't know how to thank them enough!
March 9, 2021
I would total recommend their extensions
August 26, 2020
I've been using MagePal extensions for Magento 1 and 2 for years. They always work great and the support at MagePal is top notch. I highly recommend them.
January 14, 2021
Renon was of great help. I appreciate his patience and explanation of what the issue was with my site. I'm excited to use the Custom Shipping Rates extension.
October 20, 2020
Renon was super patient and supportive throughout the whole experience, MagePal always provide the best extensions you could need as an ecommerce, definitely recommend!!!
August 4, 2021
I experienced a very good customer service. They managed to find that one setting that prevented our tag manager from working correctly. Thank you for the good support.
December 15, 2020
Everything works as needed and support is very helpful!
Customer and Address Form Fields Manager for Magento
Quickly and easily remove unwanted form fields from admin order creation and customer account, added by default Magento or other third-party extensions
Features
Remove unneeded form fields from:

Admin order creation
Customer admin

No code or template modification

Switch on/off form fields via Magento backend.
Customer Attributes
Name Prefix
Middle Name/Initial
Name Suffix
Date of Birth
Tax/VAT Number
Gender
Address Attributes
Name Prefix
Middle Name/Initial
Name Suffix
Company
Fax
VAT Number
Before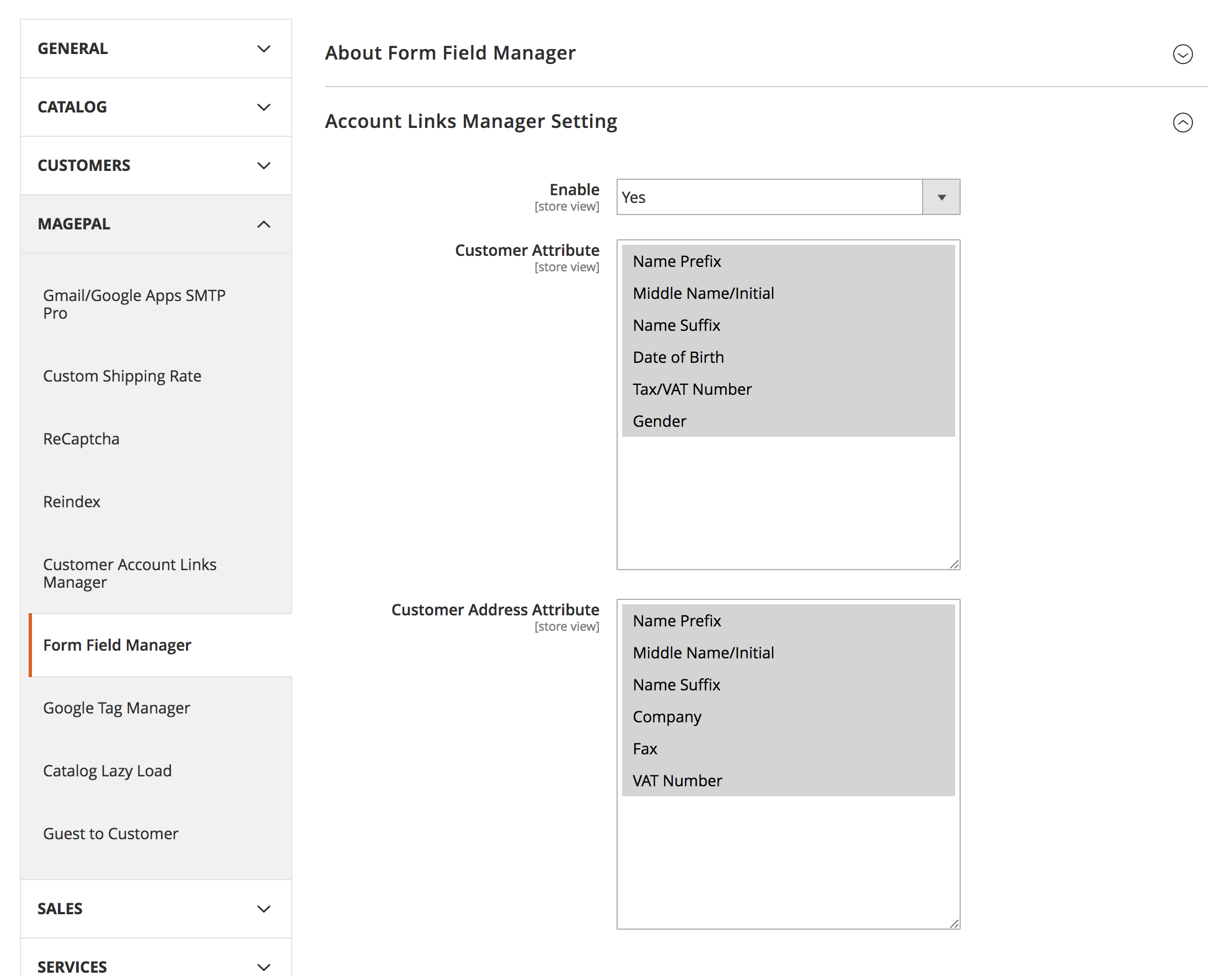 After (Admin order creation)
We found other products you might like!