Admin Form Fields Manager for Magento 2
Simplify your Admin Order Creation Experience
Quickly and easily remove unwanted form input text field from admin sales order creation and customer admin
September 6, 2020
Great products and service. Thanks
April 4, 2021
I can recommend GTM/Enhanced Ecommerce Magento solutions provided by MagePal. They're providing customer with all the basic analytics/dataLayer functionalities by default, plus are not that difficult to extend and use for custom things. What's also worth to emphasise - quick and solid support from their creator
April 17, 2022
nice customer service and very helpful, the module of the google tag manager for magento 2 works well, its a one-time-pay extension, not like any others that are starting to ask for subscriptions
December 28, 2020
These guys and gals just write great code. There is no other way to explain it. They do good work, are responsive, and professional. My only complaint is they don't have more extensions available.
March 9, 2021
Very good website chat support with indept knowledge, best Magento support around.
October 6, 2020
Great and professional !
October 17, 2020
Great support and extensions so far!
September 14, 2022
Great service, they explain what we need.
September 13, 2020
We use their Google Tag Manager enhanced ecommerce extesion & enhanced data layer - seems to be the most efficient way of hooking Magento up to analytics, adwords and other tracking requirements. Excellent support
October 10, 2021
Renon is a total professional. We always know we're in good hands while solving our problems. Always responds to chats in a timely manner. I highly recommend MagePal. Always a pleasure to work with them
March 9, 2021
Top notch support team. Very knowledgeable
August 24, 2020
We had a question about the Google Tag Module, and thought we had a paid version. But we were mistaken and were using the free version, still they gave us some advice to help debugging the issue. Good service.
November 4, 2020
Helpful and Supportive team
February 10, 2021
Fully satisfied with your products :)
January 18, 2023
We have used their magento modules for several years now and they have been great for us and any service or support that we have needed has been fast and professional!
Customer and Address Form Fields Manager for Magento
Introducing the Form Fields Manager for Magento, the ultimate solution for streamlining your admin order creation and customer account experience. With this powerful tool, you can quickly and easily remove unwanted form fields added by default Adobe Commerce or other third-party extensions.
This extension allows you to remove any form fields from the admin order creation and customer account page, providing greater flexibility and control over the user interface. It also allows you to customize the form fields layout for a better user experience.
The Form Fields Manager for Magento display only form fields that are needed to admin CSR, making their experience more efficient and enjoyable.
Overall, this extension is a must-have for any Magento store looking to improve the admin order experience by removing unwanted form fields. Say goodbye to cluttered and confusing form fields and hello to a clean and organized interface with the Form Fields Manager for Magento.
Features
Remove unneeded form fields from:

Admin order creation
Customer admin

No code or template modification

Switch on/off form fields via Magento backend.
Customer Attributes
Name Prefix
Middle Name/Initial
Name Suffix
Date of Birth
Tax/VAT Number
Gender
Address Attributes
Name Prefix
Middle Name/Initial
Name Suffix
Company
Fax
VAT Number
Before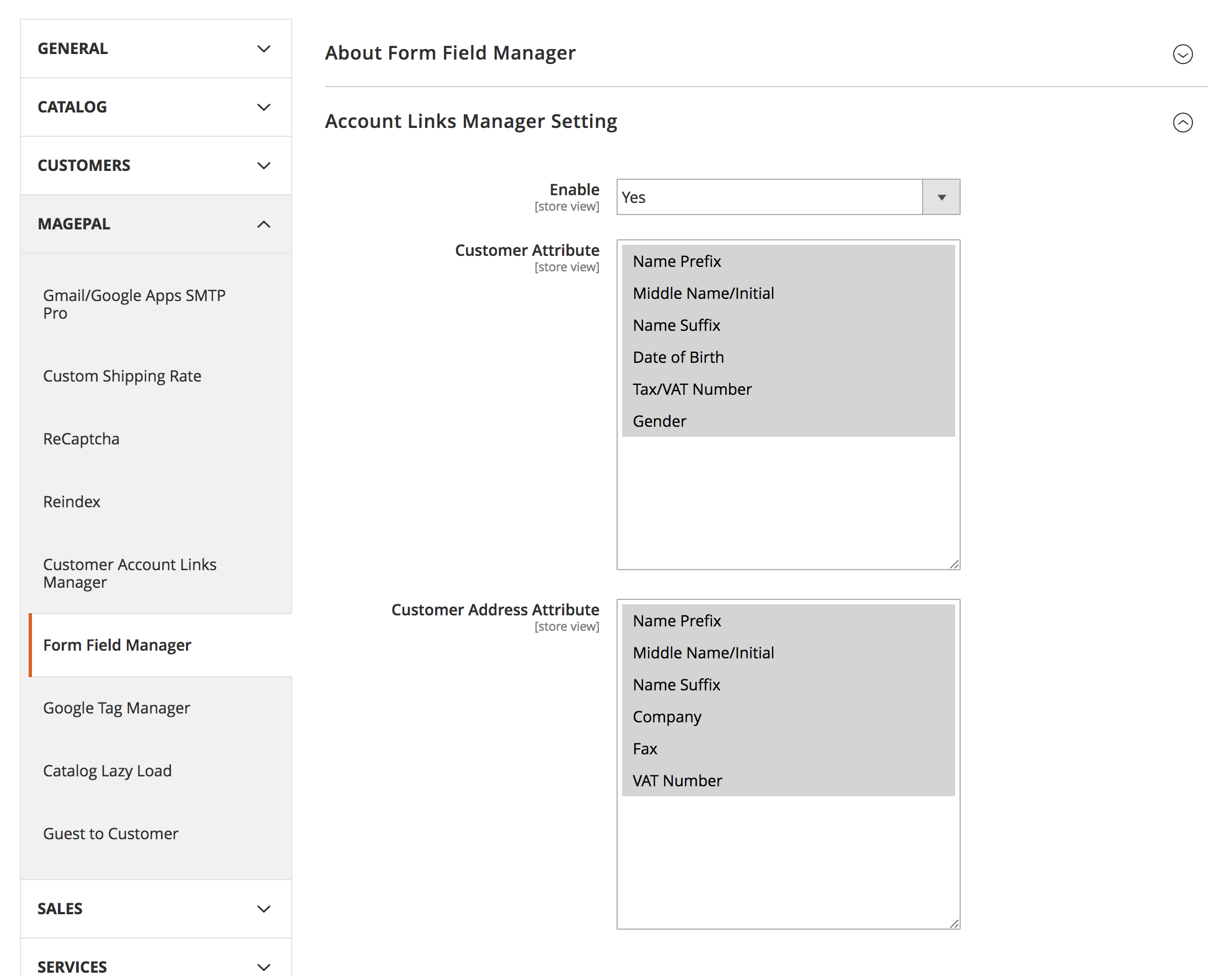 After (Admin order creation)
We found other products you might like!