Admin Form Fields Manager for Magento 2
Simplify your Admin Order Creation Experience
Quickly and easily remove unwanted form input text field from admin sales order creation and customer admin
March 9, 2021
Incredible support regardless of time zone you are working in.
March 9, 2021
Best extension support in the Magento community. Don't just force use to provide server access
March 9, 2021
Top notch support team. Very knowledgeable
February 20, 2021
Contacted Renon to get Information on his code.The response was quick and got explanation for what i was looking for.Thank you for your work
February 10, 2021
Fully satisfied with your products :)
December 14, 2021
Great set of extensions for Magento. We've been using their SMTP app for Magento 2 for a long time; upgrades are quick and easy to install in the app/code directory and use. Chat support on their site was virtually instantaneous; they answered all my tech and merchandise questions quickly.
March 9, 2021
Very good website chat support with indept knowledge, best Magento support around.
September 21, 2020
I purchased several extensions from their website and and got some from their git account, helpful stuff. The offer a niche extensions that I couldn't' find easily somewhere else. The chat help is responsive and get my questions answered.
February 8, 2021
Great experience with this company. They reply fast and are very helpful. They also listen to feedback in terms of how their products can be improved.
March 9, 2021
Great extension, and support is even more amazing.
August 12, 2020
Very knowledge and they always respond to our inquiries immediately. One of the best developers we have dealt with. Highly recommend working with them.
March 18, 2021
Fantastic work and an excellent plugin. These guys are the best!
August 27, 2020
Providing instant solution regarding our query. It is very helpful.
April 17, 2021
good support, respond very quickly.
June 6, 2021
When we moved over to Magento 2, we needed help with both Google Tag Manager and getting better data into Google Analytics. MagePal offered two solutions that worked really well together... but even more important, their customer service was patient and helpful to get it set up and working properly.
Customer and Address Form Fields Manager for Magento
Introducing the Form Fields Manager for Magento, the ultimate solution for streamlining your admin order creation and customer account experience. With this powerful tool, you can quickly and easily remove unwanted form fields added by default Adobe Commerce or other third-party extensions.
This extension allows you to remove any form fields from the admin order creation and customer account page, providing greater flexibility and control over the user interface. It also allows you to customize the form fields layout for a better user experience.
The Form Fields Manager for Magento display only form fields that are needed to admin CSR, making their experience more efficient and enjoyable.
Overall, this extension is a must-have for any Magento store looking to improve the admin order experience by removing unwanted form fields. Say goodbye to cluttered and confusing form fields and hello to a clean and organized interface with the Form Fields Manager for Magento.
Features
Remove unneeded form fields from:

Admin order creation
Customer admin

No code or template modification

Switch on/off form fields via Magento backend.
Customer Attributes
Name Prefix
Middle Name/Initial
Name Suffix
Date of Birth
Tax/VAT Number
Gender
Address Attributes
Name Prefix
Middle Name/Initial
Name Suffix
Company
Fax
VAT Number
Before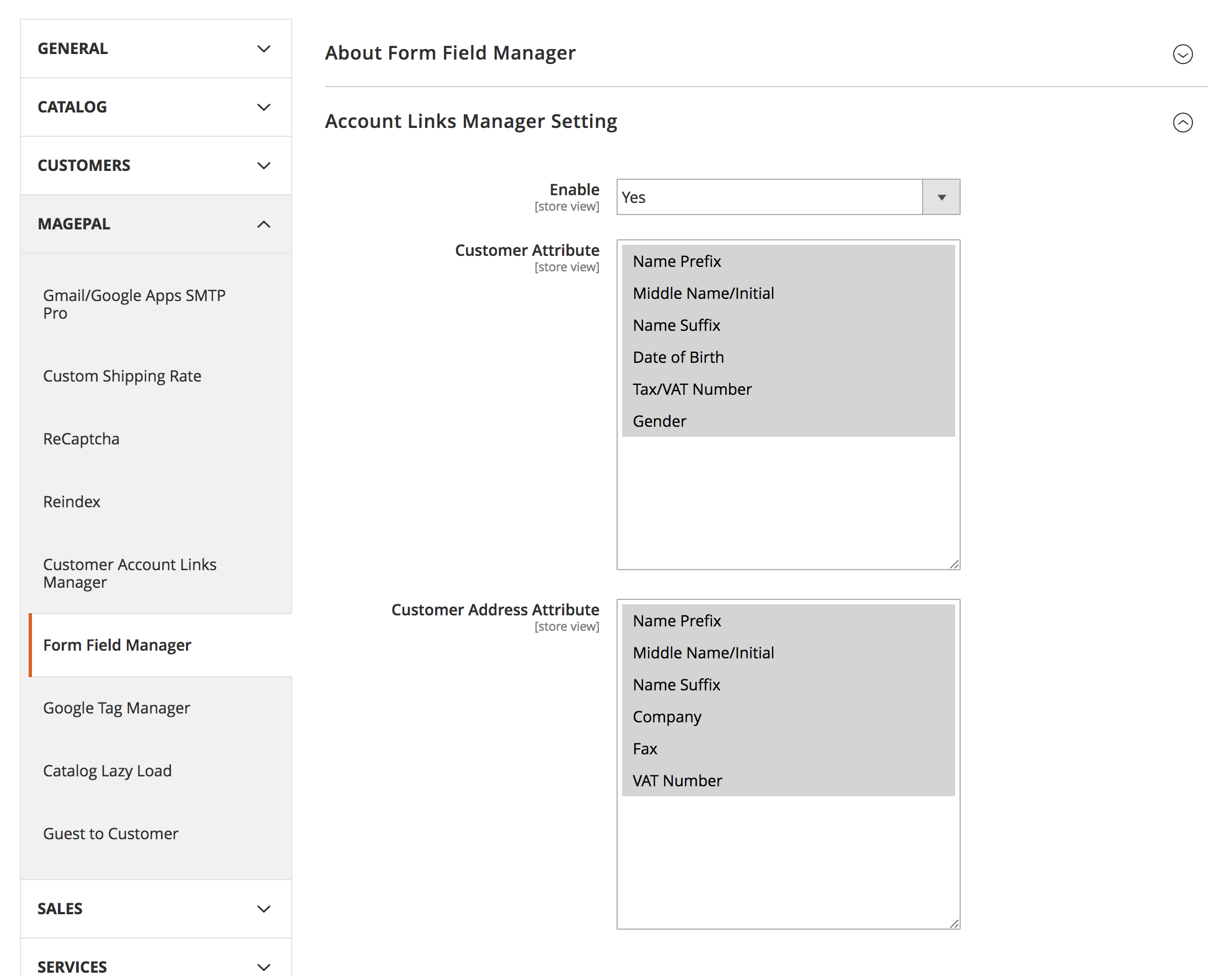 After (Admin order creation)
We found other products you might like!