Google Tag Manager for Magento 2
Create, launch, and iterate on new marketing campaigns without waiting on your development team.
Build better digital analytics solutions, faster, add, or change tags on the fly without any Magento coding.
October 17, 2020
Great support and extensions so far!
August 24, 2020
We had a question about the Google Tag Module, and thought we had a paid version. But we were mistaken and were using the free version, still they gave us some advice to help debugging the issue. Good service.
March 18, 2021
Fantastic work and an excellent plugin. These guys are the best!
December 5, 2020
Incredible support. Even in Sunday when I did not expect.
February 8, 2021
Great experience with this company. They reply fast and are very helpful. They also listen to feedback in terms of how their products can be improved.
November 4, 2020
Helpful and Supportive team
March 9, 2021
Top notch support team. Very knowledgeable
May 10, 2022
MagePal were not able to help me today with my specific requirement. But the time and consideration I was shown by Renon was above and beyond the call of duty considering they did not have an out of the box solution, the very best effort was made to accomodate me. I will surely be back in the future, thank you.
August 20, 2020
Installed GTM on a commercial site today, had a few hickups but the support was great. Can reccommend.
September 10, 2020
I've worked with MagePal for a few years they are always very responsive and very knowledgable. There is nothing I ask for they can't do. From basic fixes to major customization they do a great job.
May 14, 2022
They are professional knowledgeable, and fast. If you are looking for support team, they are the best.
September 21, 2020
I purchased several extensions from their website and and got some from their git account, helpful stuff. The offer a niche extensions that I couldn't' find easily somewhere else. The chat help is responsive and get my questions answered.
January 14, 2021
Renon was of great help. I appreciate his patience and explanation of what the issue was with my site. I'm excited to use the Custom Shipping Rates extension.
January 21, 2022
Excellent Magento 2 extensions and 5-star quality support. If you need to set up Google Tag Manager, Google Analytics (Universal Analytics and the new GA4 - Google Analytics 4), an SMTP email module, customize the data layer variables, etc, definitely buy the extensions from MagePal. The code works well and support is outstanding. Quick knowledgeable responses to questions, from a lead developer. Absolutely great.
March 15, 2021
Top Magento 2 extensions at a affordable price
Integration made easy without editing Magento templates. Unleashing the power of Google Tag Management today!
Whether you are a small Magento retailer or an Enterprise customer, our suite of Google Tag Manager extensions will help you integrate the most challenging GTM projects within days, instead of spending weeks or months creating custom solutions. With our extensive data layer attributes set, adding your favorite Facebook, Snapchat, Bing or Pinterest code snippets is quick and simple with all the data you need at your fingertips.
Buy with confidence
Install our extensions with confidence knowing that they will just work! But if you run into an issue... no problem, we normally solved all issues in 15 minutes or less.
Did you know?
Our extensions have been downloaded over 1.6 million times, with thousands of happy customers worldwide.
We are Core Magento 2 contributors.
We are amongst the top 10 Magento contributor on StackOverflow.
We provide bug fixes to almost all extension companies
We help develop some of the top multi-million to billion-dollar brands using Magento
and best of all we just love creating great Magento products.
Each line of our code is carefully written and tested so that you will spend less time on issues and more time doing what you do best!
Setup in 30 minutes or less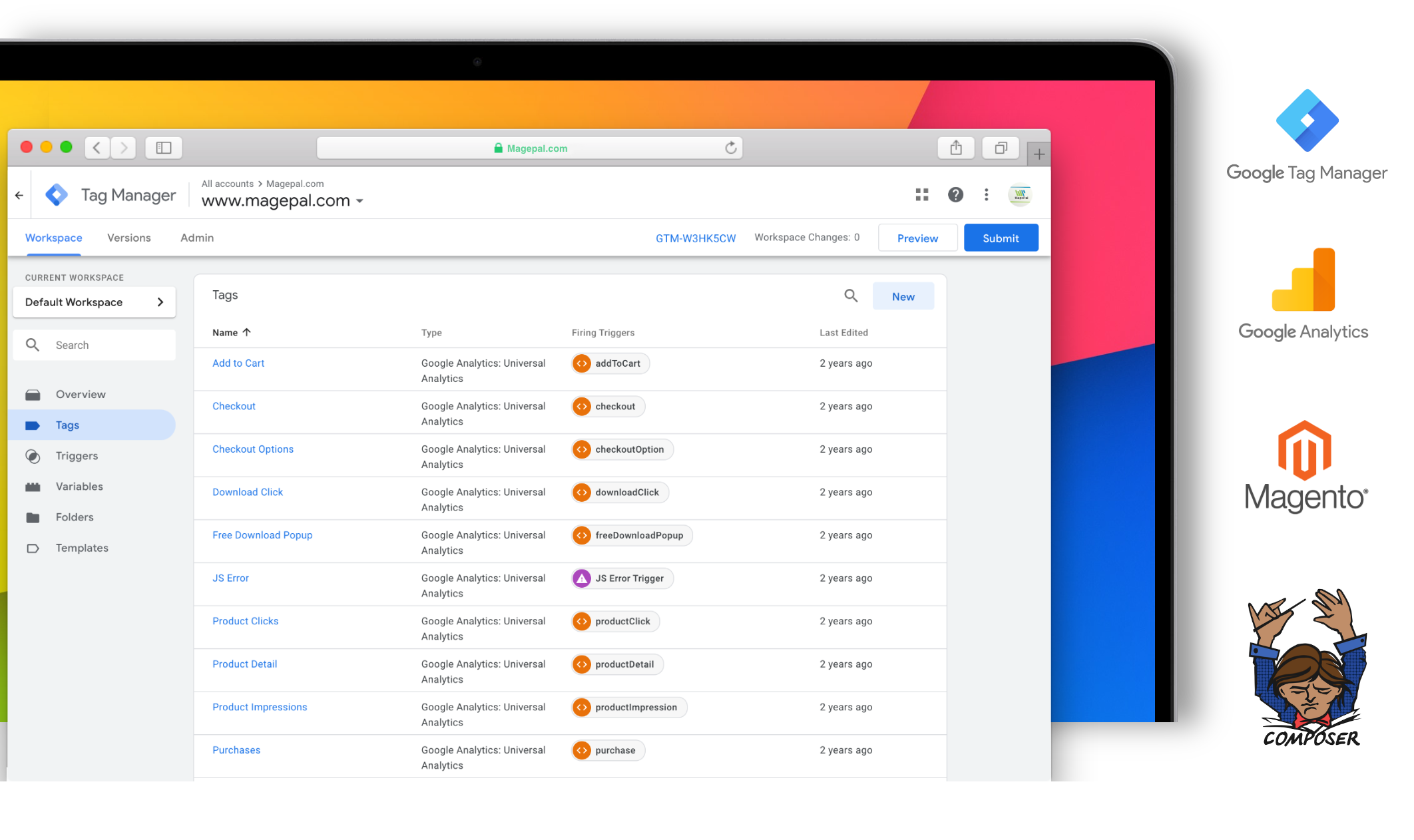 Adding third-party JavaScript code snippets to your Magento store can be a very time-consuming and difficult task, especially if you don't have the necessary data in your Google Tag Manager data layer. Our Datalayer extension provides easy to follow instruction to integrate all major third-party tracking code.
Manage all your third-party integration in one place.
Google Tag Manager makes running your digital marketing campaigns much easier when calibrating with multiple departments and Ad agencies by making available the right set of tools so that everyone can get their job done quickly without relying on developers.
Without having the all data you need at your fingertips your integration will become difficult, time-consuming, and messy since each developer will only focus on the current task at hand instead of focusing on writing reusable components for future integration. Our extension provides a vast array of over 60 pre-configure data layer elements to make integrating your Magento store with any other third-party service a breeze using Google Tag Manager. Extracting, customizing, and adding your own custom data from your Magento store to Google Tag Manager is as easy as 10 lines of code using our easy to customize APIs.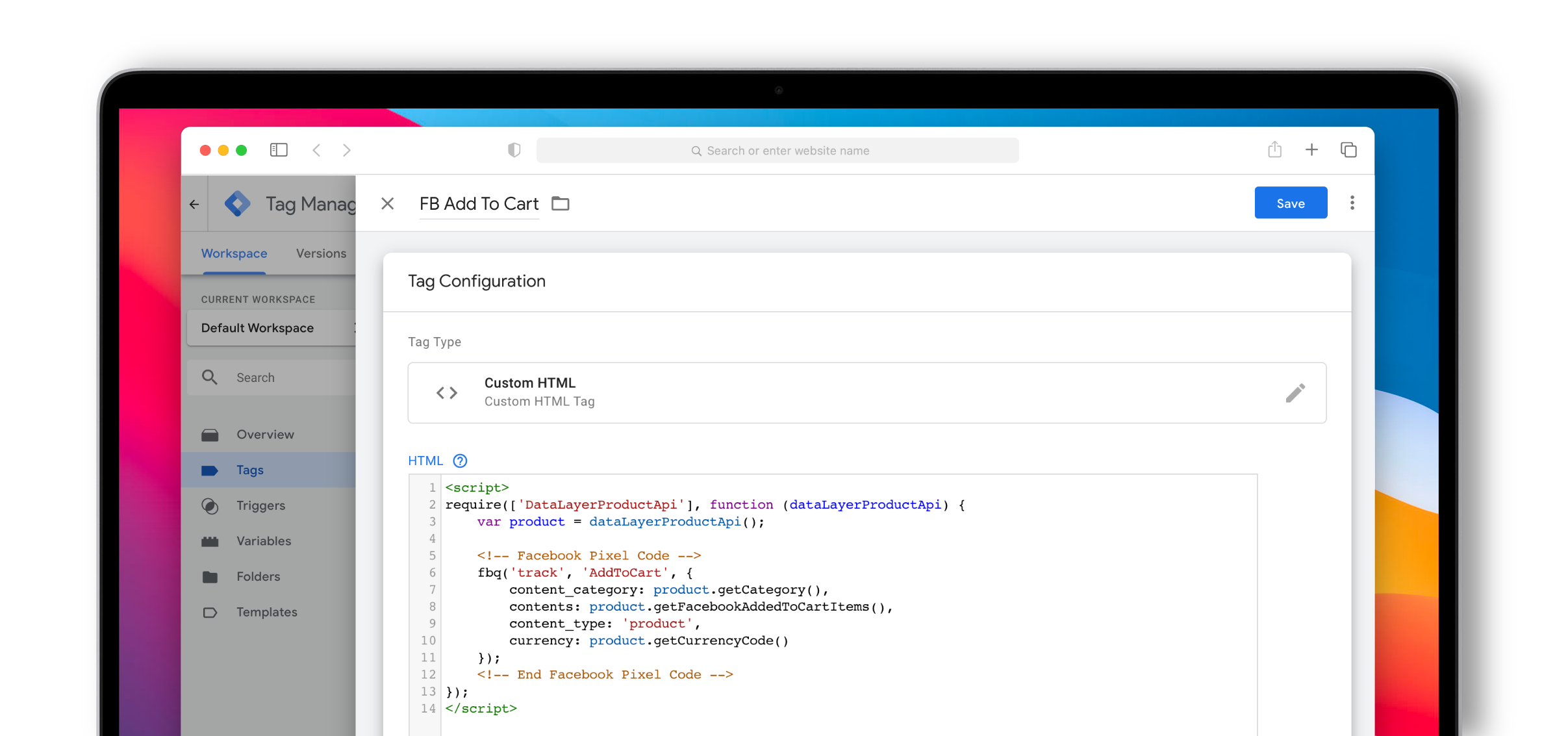 Tag Management Integration Made Easy
Adding Google Tag Manager code snippet to the header section of your Magento store may seem like the ideal and most efficient way to add GTM to your site. But this will not be sufficient and limit your ability to take full advantage of GTM when integrating third-parties tracking codes that require data from your Magento stores, such as product name, price, items added to cart, order items, total, shipping amount, or any other data. Our extension provides hundreds of data elements and events to accomplish any integration and provides the building block to make your next integration a success.
Enhanced E-commerce made easy
Want to track more? Upgrade to our new Enhanced E-commerce for Google Tag Manager to take full advantage of Google Analytics' most powerful e-commerce features. Gain valuable insight and increase your conversion rate by leveraging Google Enhanced E-commerce to better understand your user actions and behaviors.
Break the code barrier
Build better digital analytics solutions, faster without any Magento coding. Whether you are building a simple or an enterprise-level solution, our extension comes pre-built with many events and data layer values to accelerate your GTM setup and eliminate the pain out of tagging
cmsIndexIndexPage
catalogCategoryViewPage
productListSwatchClicked
productListSwatchSelected
catalogProductViewPage
productDetailSwatchClicked
productDetailSwatchSelected
checkoutCartIndexPage
checkoutIndexIndexPage
checkoutOnepageSuccessPage
compareProductAdded
compareProductRemoved
wishlistProductAdded
wishlistProductRemoved
customerLoginAfter
newsletterSubscriberAdded
newsletterUnsubscribed
For more events see our Enhanced E-commerce extension
Easy to customize...
Want to track more or create custom dimensions? Our extension is not just another Google Tag Manager module that adds GTM javascript code to your head section of your site! All our extensions are developed with developer customization in mind. With just a few lines of code, you can quickly add or change virtually any data layer elements.
Frequently Asked Questions.
What is Google Tag Manager (GTM)?
Google Tag Manager (GTM) is a user-friendly, powerful, and essential integration for every Magento store. It simplifies the process of adding, editing, and managing third-party JavaScript tags and other snippets of code on your Magento site. With GTM, you can quickly and easily add Facebook tags, AdWords Conversion Tracking, Re-marketing, Bing UET, SnapChat, DoubleClick code, Google Analytics, and many more in a breeze without the need for a developer to make changes to your Magento code providing the data is available to Google Tag Manager.
What is the difference between Google Analytics and Enhanced E-commerce?
As e-commerce, technology, and advertising evolve over the last two decades, marketers also needed better ways to track their e-commerce store performance to better improve the conversion rate. Traditional Google Analytics was designed to track page views and how people interact with your site. Enhanced E-commerce was designed to track users' interaction with your products by offering the ability to track Add to Cart, Remove from Cart, Product Impression, and much more.
What is the difference between Google Analytics 4 (GA4) and Enhanced E-commerce?
With the introduction of GA4, Google has included all the equivalent Enhanced e-commerce features directly in GA4.
What is the difference between Universal Analytics and Google Analytics 4 (GA4)?
Google rolled out Google Analytics 4 (GA4), the next generation and latest iteration of the Google Analytics platform. GA4 replaces Universal Analytics (UA) as the default for digital analytics measurement in GA. The biggest difference between Universal Analytics and GA4 is their measuring model. Universal Analytics uses a measurement model based on sessions and page views, while Google Analytics 4 uses a measurement model based on events and parameters.
How to implement Enhanced E-commerce with Magento?
To implement Enhanced E-commerce you will need to upgrade to the Enhanced E-commerce extension for Google Tag Manager.
Do I need a developer or agency to implement Enhanced E-commerce?
No, with our enhanced e-commerce extension, all you need is to install the extension and have basic knowledge of how to configure tags in Google Tag Manager.
Do I need to make changes to my Magento theme?
No, our extension does not conflict with custom Magento themes or require editing of HTML files.
How much time will it take to implement this extension?
Setting up and integrating our extension should take around 10 - 30 minutes with basic knowledge of how to configure tags in Google Tag Manager.
We found other products you might like!