Email Promotional Items for Magento 2
Turn Your Customers Into Repeat Buyers by Marketing Other Items in Their Order Confirmation Emails
With close to 100% open rate and zero spamming, easily promote additional products and services within your confirmation emails.
November 4, 2020
Responsive and willing to work with me to add needed additional features.
December 28, 2020
I contacted them to ask if it was possible to create a plugin, and they went ABOVE and BEYOND and managed to get me something that worked for my needs. The support has been absolutely amazing, and I don't know how to thank them enough!
December 10, 2020
They have an amazing list of free modules "must have", and with strong code and well maintained. Absolutely one of the magento 2 software house more reliable. Customer service is quick in response and very professional. Thank you for your work!
November 4, 2020
very good
October 6, 2020
Great and professional !
August 24, 2020
We had a question about the Google Tag Module, and thought we had a paid version. But we were mistaken and were using the free version, still they gave us some advice to help debugging the issue. Good service.
October 22, 2020
Quick and thorough answers
April 17, 2021
good support, respond very quickly.
August 26, 2020
I've been using MagePal extensions for Magento 1 and 2 for years. They always work great and the support at MagePal is top notch. I highly recommend them.
January 18, 2021
Quick and excellent service.
September 21, 2020
I purchased several extensions from their website and and got some from their git account, helpful stuff. The offer a niche extensions that I couldn't' find easily somewhere else. The chat help is responsive and get my questions answered.
February 20, 2021
Contacted Renon to get Information on his code.The response was quick and got explanation for what i was looking for.Thank you for your work
March 21, 2021
We are a specialized european E-Commerce Agency for scalable, high performance e-commerce solutions for B2B and B2C merchants and highly recommend this Plugin: Magepal is the best solution for our customers to transfer all needed data into Google Analytics. The support is outstanding, even when a "out of the box" method is used in Magento. The assistance in finding a solution together with our Dev. Team was incredibly good!
November 4, 2020
Helpful and Supportive team
February 5, 2021
extensions works great and excellent support.
Boost Your Sales by Promoting More Products to Your Customers.
The relationship between you and your customer shouldn't stop at the checkout. Even after your customers complete their purchase, it is important that you keep in touch with them. There are many ways to do this, from offering discount vouchers, special offers, or even as simple as recommending items that they may need even before your customers realized they need them base on their purchase history.
When a customer buys from you, a confirmation email is among the most important email that they expect. Because it lets them know that their order has been received and they will receive the product or service shortly. Confirmation emails are also among the most opened emails, with close to 100 percent opening rate and often viewed many times.
Since these emails are so valuable to your customers, why not use this as the perfect opportunity to make more sales? Plus it is much easier to sell to an existing customer than to a new one. So why wait? Purchase today and start selling more products and services to your most valuable customers.
Buy with confidence
Install our extensions with confidence knowing that they will just work! But if you run into an issue... no problem, we normally solved all issues in 15 minutes or less.
Did you know?
Our extensions have been downloaded over 1.6 million times, with thousands of happy customers worldwide.
We are Core Magento 2 contributors.
We are amongst the top 10 Magento contributor on StackOverflow.
We provide bug fixes to almost all extension companies
We help develop some of the top multi-million to billion-dollar brands using Magento
and best of all we just love creating great Magento products.
Each line of our code is carefully written and tested so that you will spend less time on issues and more time doing what you do best!
Setup in 30 minutes or less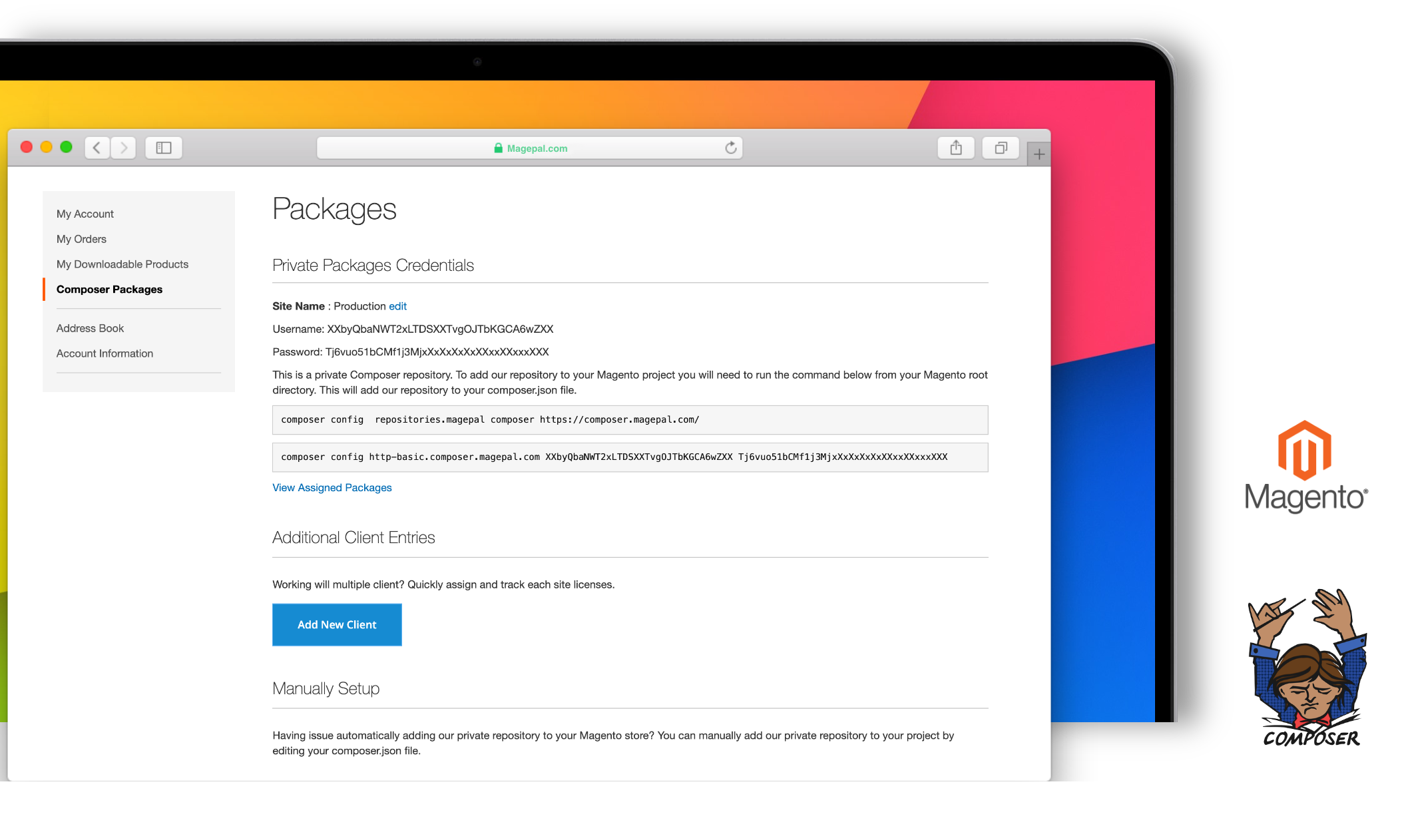 Whether you are a small Magento store or a billion-dollar enterprise customer, integrate upsell and other promotional items within your order, invoice, and/or credit memo confirmation emails can dramatically decrease your customer acquisition cost while increasing your sales as customers purchase more of your products.
Start Improving your Sales! Say Hello To Email Promotional Items.
Selling a lot of complimentary items? With our new Magento extension, you can quickly add cross-sell, upsell, related, recently view products, social media links, and other elements to your order confirmation, credit memo, and invoice emails. These emails not only have the highest opening rates without spam but also give you the opportunity to provide other products and services recommendations to your most valuable customers based on their current purchase. This not only improves your average customer acquisition cost over time but also decreases your cost per acquisition.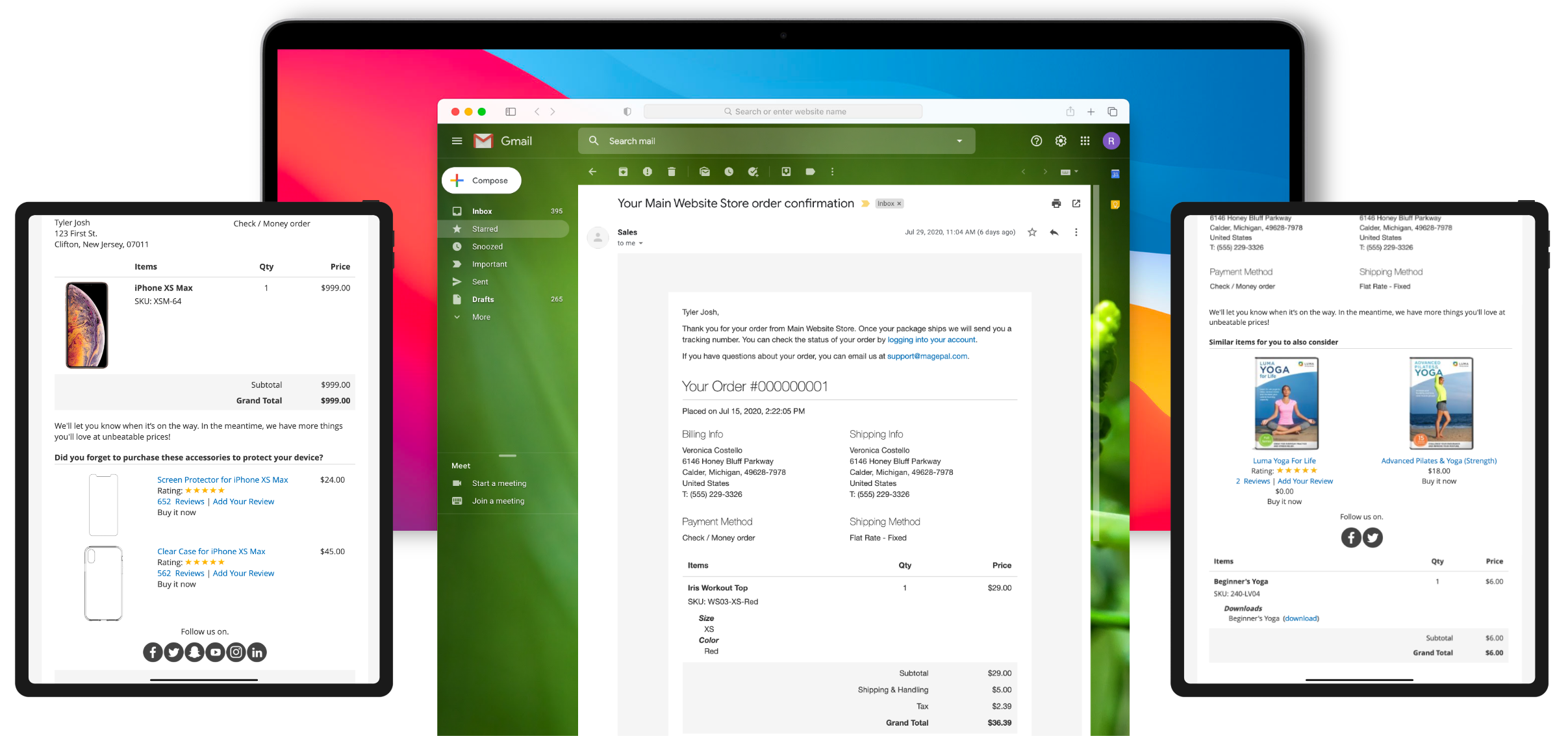 Upsell Email Marketing Made Easy
Customers are far more likely to act if you send promotions to them after they already made a purchase. Therefore adding upselling and cross-selling items with-in your confirmation email is the best way to get more repeated sales from your current customers.
Offer discounts if purchase by a specific date.
Display other products on the order confirmation, credit memo, and invoice emails.
Decrease your cost per acquisition by offering more complementary products to your most valuable customers.
Add links to your various social media profiles.
Ability to convert guest users to customers, directly from the order confirmation page.
Responsive design.
Easy drag and drop with zero codings needed. Customize content and sort order to control each section with individual visibility options.
Display more relative product to your most valuable customers
Easy to Configure & Setup
Select from a list of predefined elements by drag and drop the individual elements to design your ideal email template layout. Quickly enable Google Analytics to Track performance. You can choose several different elements to customize your email template.
Discount Coupon
Up-Sell Items
Social Media Links
Cross-Sell Items
Related Items
Recently View Items
Custom Paragraph Element
Custom Header Element
Frequently Asked Questions.
Do I need to edit my Magento order email template?
No, our extension will insert all the HTML code for you.
Can I choose which element to display in my order, invoice, and credit memo emails?
Yes, you can drag and drop the different elements you want to display in your emails.
How much time will it take to implement this extension?
Setting up and integrating our extension should take around 10 - 30 minutes.
How to Use Confirmation Emails to Make More Money?
Monetizing your order or invoice conformational email is as simple as installing our extension.
We found other products you might like!