Custom SMTP Extension for Magento 2
Having Issues Sending Email From Your Magento Store?
Say goodbye to Magento sales email labeled as spam with the #1 SMTP extension for Magento 2. Effortless email sending, guaranteed.
August 24, 2020
We had a question about the Google Tag Module, and thought we had a paid version. But we were mistaken and were using the free version, still they gave us some advice to help debugging the issue. Good service.
December 14, 2021
Great set of extensions for Magento. We've been using their SMTP app for Magento 2 for a long time; upgrades are quick and easy to install in the app/code directory and use. Chat support on their site was virtually instantaneous; they answered all my tech and merchandise questions quickly.
March 15, 2021
Top Magento 2 extensions at a affordable price
August 17, 2020
Used their extensions on Magento and they work out of the box. Moreover support is always on point. Spoke with Renon many times and he excelled in finding solutions for us. Great company and great work so far.
March 9, 2021
Incredible support regardless of time zone you are working in.
May 10, 2021
Great experience! They reply fast and are very helpful!
March 9, 2021
Top notch support team. Very knowledgeable
September 13, 2020
We use their Google Tag Manager enhanced ecommerce extesion & enhanced data layer - seems to be the most efficient way of hooking Magento up to analytics, adwords and other tracking requirements. Excellent support
May 9, 2022
Great products and reliable and fast Customerservice&Support, thank you!
August 4, 2021
I experienced a very good customer service. They managed to find that one setting that prevented our tag manager from working correctly. Thank you for the good support.
August 13, 2020
We were very happy with the extension we purchased and I was *VERY* pleasantly surprised by the fast support we received in getting a couple of things working. They were super responsive!
June 6, 2021
When we moved over to Magento 2, we needed help with both Google Tag Manager and getting better data into Google Analytics. MagePal offered two solutions that worked really well together... but even more important, their customer service was patient and helpful to get it set up and working properly.
May 28, 2021
fantastic customer support.
March 9, 2021
Great extension, and support is even more amazing.
October 15, 2022
Great support! Solved my issue regarding buying wrong extention without any hassles and in a matter of hours
Sending Email Made Simple. Integrate Gmail, G Suite, Amazon SES, Office 365, and more with Magento.
As an e-commerce store owner, you know how important it is to keep your customers informed and engaged. Transactional emails are a crucial part of this process, and our custom Magento 2 extension makes it easy to send them using your preferred email SMTP service provider.
With our extension, you can easily configure Magento 2 to send all transactional emails using Google App, Gmail, Amazon Simple Email Service (SES), Microsoft Office 365, or any other SMTP server. This means you can take advantage of the features and reliability of your preferred provider, without any additional setup or configuration.
Our extension is also free to use and designed to integrate seamlessly with all major email service providers and third-party SMTP servers, so you can be sure your messages are being delivered to your customers' inboxes.
With our extension, you can easily keep your customers informed and engaged, without the hassle of managing multiple email accounts or worrying about deliverability. Try our extension today and see the difference it makes for your e-commerce store.
Buy with confidence
Install our extensions with confidence knowing that they will just work! But if you run into an issue... no problem, we normally solved all issues in 15 minutes or less.
Did you know?
Our extensions have been downloaded over 1.6 million times, with thousands of happy customers worldwide.
We are Core Magento 2 contributors.
We are amongst the top 10 Magento contributor on StackOverflow.
We provide bug fixes to almost all extension companies
We help develop some of the top multi-million to billion-dollar brands using Magento
and best of all we just love creating great Magento products.
Each line of our code is carefully written and tested so that you will spend less time on issues and more time doing what you do best!
Setup in 30 minutes or less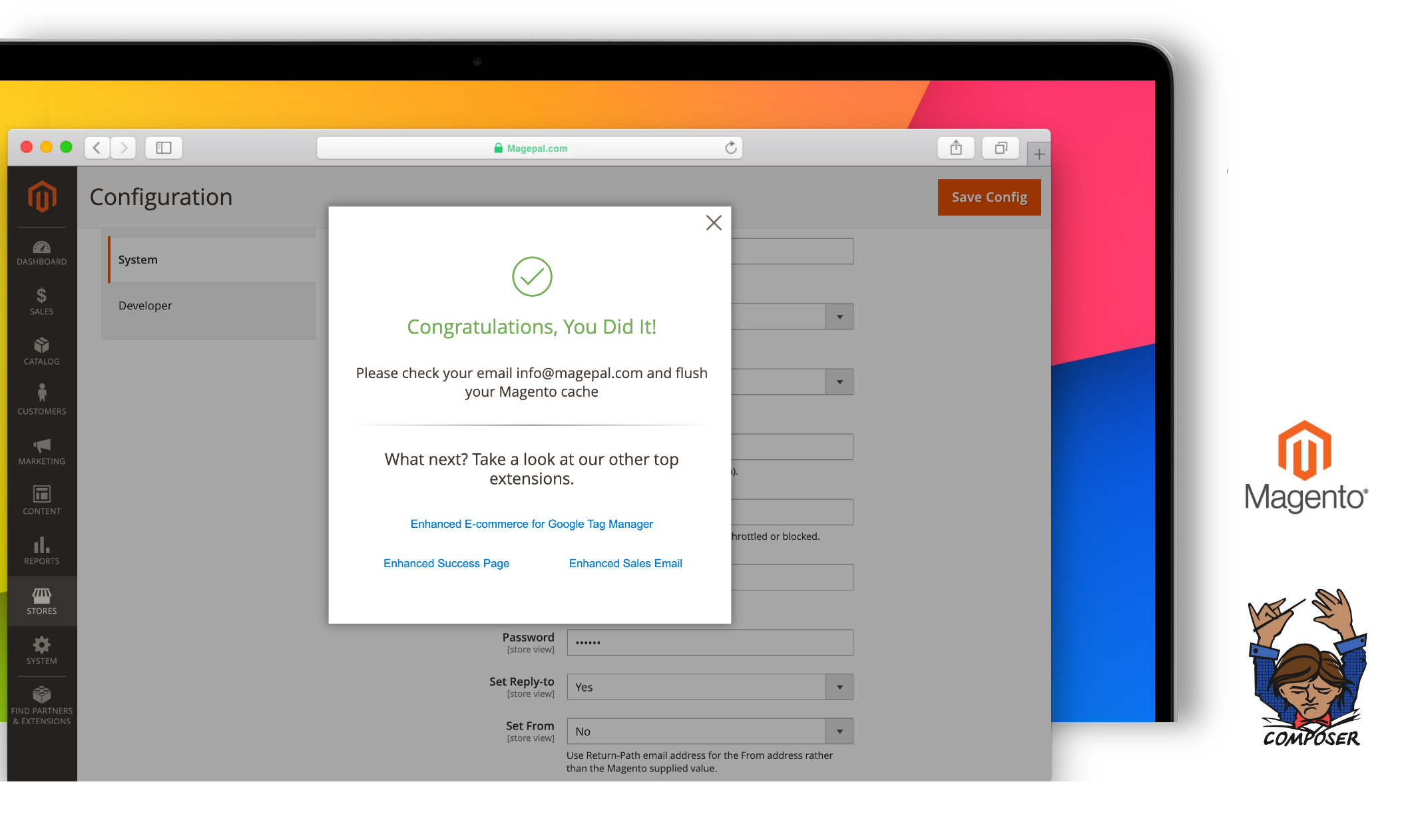 Sending transactional emails to customers is a vital part of running an e-commerce store. By default, most hosting companies' mail servers are configured to send emails from unauthorized senders which prevent emails from reliably being delivered to recipients and ending up in their spam folder.
What is Simple Mail Transfer Protocol (SMTP)?
SMTP or Simple Mail Transfer Protocol allows you to send emails from your Magento 2 store through a specific third-party mail SMTP server. For example, if you want to use your Gmail, Amazon, Microsoft, or any other mail server account to send an email from your Magento web store, all you need is to configure that mail server setting in our extension in Magento without having to do any complex server configuration.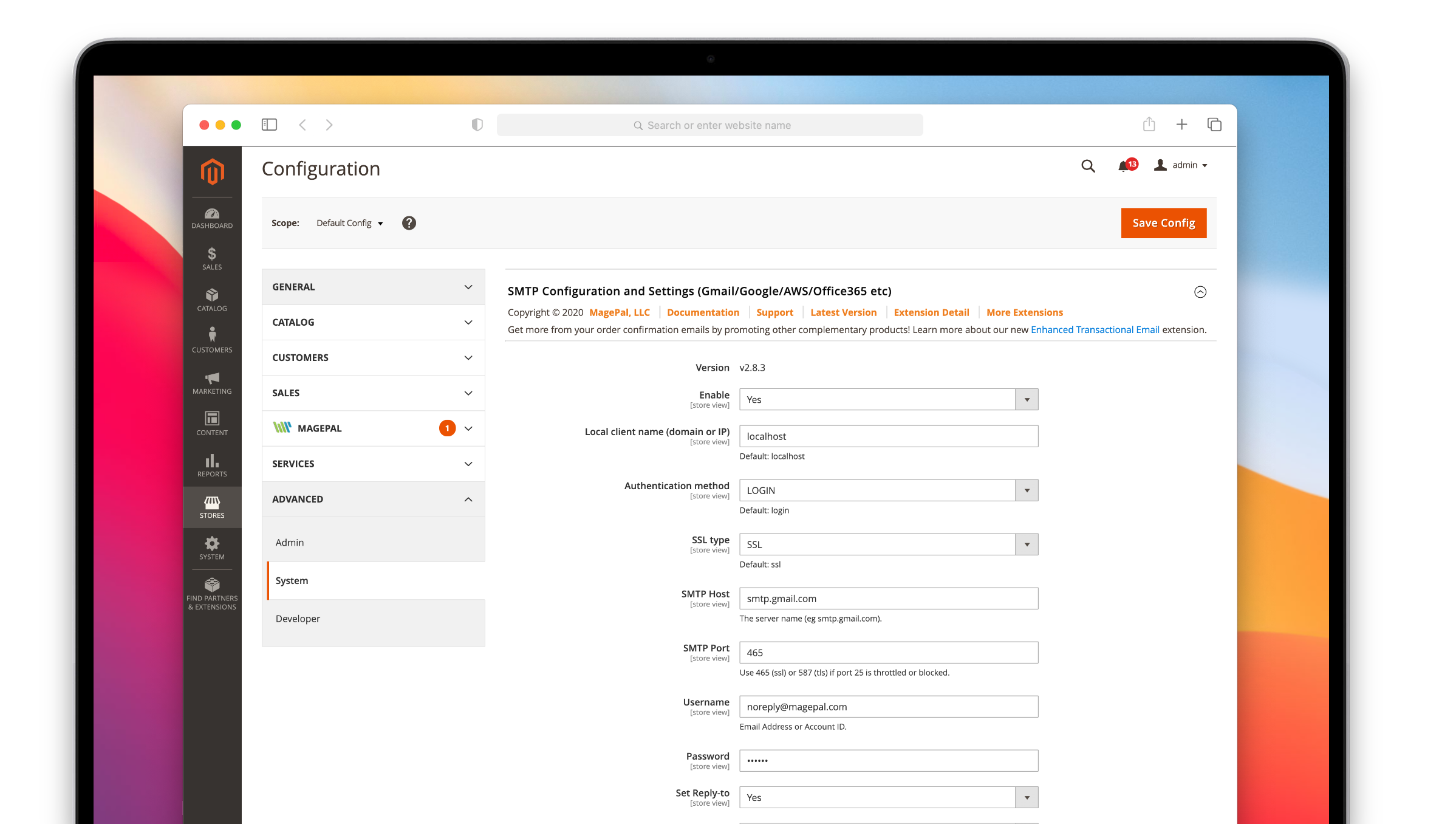 Why use a Custom SMTP Server
Most Magento store owners struggle to limit the number of transactional emails that end up in clients' junk mail. Take full control of your email sending settings in Magento 2 and reduce sending emails to your valuable customers' junk mail folder. Emails are delivered instantaneously to their intended recipients without delays or getting trapped in the spam folder.
Out of the box, Magento 2 doesn't provide the ability to specify your custom SMTP settings for outgoing emails using an external SMTP server. Using this extension bridges the gap and allows your Magento store to connect to your preferred email provider securely and easily.
All you need is either an (i) free Gmail account, (ii) paid Google Apps account, or any other SMTP service (i.e Amazon Simple Email Service / Amazon SES, Microsoft Office 365).
SMTP Features
Send emails through virtually any external SMTP server from your Magento store
Easily configure Magento 2 SMTP settings from within Magento2 store admin
Complete control of custom SMTP server settings: Hostname, Port, Username, Password, and more
Self-test option, which lets you verify your email credentials are correct before saving
Support Multi-store, configurable different email providers/accounts per store
Support secure SMTP servers: TLS / SSL, Plain-text, username/password, CRAM-MD5 authentication
Customize email headers: From / Reply-To / Return-Path
Integrate with any third-party SMTP server
SMTP Service Providers
Our extension works with all major SMTP providers
Gmail / Google App / G Suite
Amazon Simple Email Service (SES)
Microsoft Office 365 / Outlook / Hotmail
SparkPost
GoDaddy
Mandrill
MailGun
SendGrid
Elastic Email
Verizon / Yahoo Mail / AOL Mail
Postmark
O2 Mail
Zoho
Mailjet
Mail.com
Your Company SMTP Server
Benefits of using an SMTP Provider
Since most SMTP server does not use Port 25, you'll reduce the probability that an ISP might block your email or flag it as SPAM. Also, all your emails sent from Magento will be searchable and backed up in your email account on Google's servers.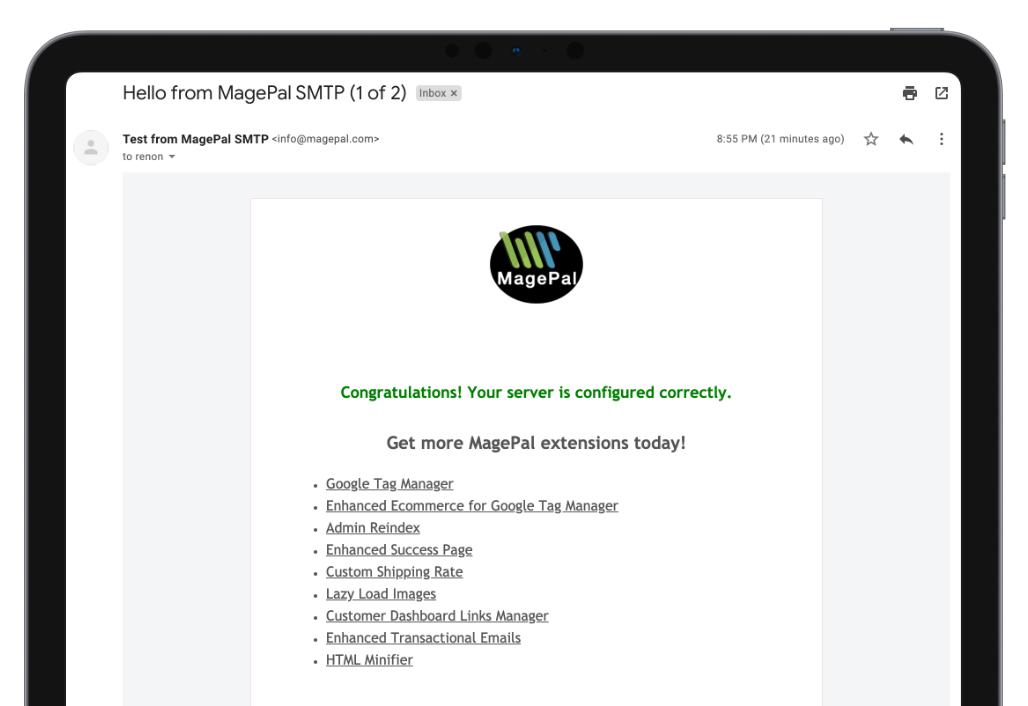 Frequently Asked Questions.
Can I use any SMTP Provider?
Yes, once your mail server offers SMTP protocol our extension should work
Does this extension support OAuth?
No.
We found other products you might like!